COs union sues NYC over inhumane working conditions
The city's newly appointed prisons commissioner says he is taking the allegations seriously and is ready to act
---
By Sarah Sinning
NEW YORK — The union representing New York City corrections officers has filed a lawsuit against the city, accusing officials of creating an inhumane work environment at the Rikers Island prison complex, the New York Times reports.  
"It was hell," said Officer Keane Nedd, who filed an affidavit detailing her difficulty in obtaining permission to use a lactation room on shift. She describes being forced to wait for hours "in a wet uniform and in pain."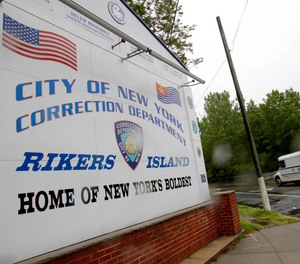 Nedd also reported that she routinely went into work assuming she would be on duty for at least 16 hours; she worked 24 hours straight as recently as last week. She also said she felt unsafe on the job since it wasn't unusual for inmates to open cell doors with makeshift tools like plastic utensils.
Officer Bernadette Uniberg likewise described her working situation as "hell." She said she suffered burns and rashes on her skin from working in the hot jail during double and triple shifts.
According to the Correction Officers' Benevolent Association, more than 1,000 officers have resigned in the past two years, and while the organization is pushing NYCDOC to hire thousands more COs to improve working conditions, the city's budget passed last month only included funds for 400.
Newly appointed DOC Commissioner Vincent Schiraldi says he is taking the allegations seriously and is ready to act.
"I'm looking at a longstanding set of challenges at this department that are severe," he said on Friday. "On that, I agree with C.O.B.A. And my job is to address them, and a bunch of lawyers can fight over lawsuits."
Schiraldi disagrees, however, that the jails are insufficiently staffed; he says that too many officers are failing to show up to their assigned shifts, leaving fellow officers to pick up the slack.
Schiraldi also announced on Friday a plan to address many of the problems highlighted in the lawsuit. He vowed to accelerate repairs to cell doors, end triple shifts as quickly as possible and offer free meals to anyone working a triple shift as long as those continue.
He also said that officers whose regular shifts did not involve interacting with inmates would have to help relieve custody staff, a move that Officer Nedd said could be helpful.
But union president Benny Boscio Jr. was far less optimistic, calling the proposal a "band-aid."
"If we don't get 2,000 corrections officers, I don't see any room for optimism," he said. "Because you can't get blood out of a rock."