Family members of slain CO push for bills to reclassify prison staff
Corrections workers "need to be safe so they can do their jobs," said Sara McFarland
---
By Trish Mehaffey
The Gazette
        
ANAMOSA, Iowa — The wife of slain Anamosa correctional officer Robert McFarland said Wednesday no other family members should have to get a call telling them their loved one was killed by an Iowa prison inmate.
"This cannot happen again," Sara McFarland said during a news conference at the Lawrence Community Center in Anamosa. Corrections workers "need to be safe so they can do their jobs."
McFarland helped introduce two bills in the Iowa Legislature that would classify correctional officers and health care staff as public safety workers, giving them bargaining rights and continuing health insurance for their families if they are killed at work.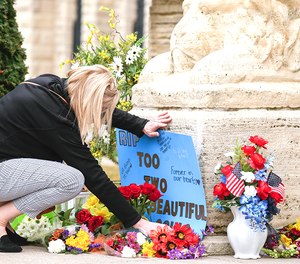 McFarland said her husband would stand behind both bills if he were alive. He was proud of his job and his union, she said.
McFarland was joined by family members representing Lorena Schulte, 50, a registered nurse, who also was killed March 23 after she and Robert McFarland were bludgeoned to death with hammers during a failed escape attempt.
Two inmates, Thomas Woodard, 34, and Michael Dutcher, 28, were convicted of two counts of first-degree murder and sentenced to life in prison without parole.
The bills
Rick Eilander, president of AFSCME Council 61, and Rep. Todd Prichard, D-Charles City, led the Wednesday event introducing the two bills that Prichard is co-sponsoring. The deadline to introduce new bills has passed, but Prichard said they would be passed as a leadership bill or as part of the budget.
As a state lawmaker, Prichard said he took it personally when the two state workers were killed.
House File 2404, the correctional officer bill, is called the "Robert McFarland Act." House File 2405, the health care staff bill, is called the "Lorena Schulte and Lori Mathis Act."
The two bills would restore collective bargaining rights for all correctional officers and health care staffers who were eliminated from the public safety classification in 2017, Prichard said.
The acts would increase penalties for inmates found guilty of assaulting a prison staffer and also provide health insurance for surviving spouses and children of prison workers killed in the line of duty.
Eilander said the two bills are not union bills or partisan bills. They're for correctional officers and their families. The bills also would include a classification for jailers and dispatchers on the county level.
He said he wanted to make the union more bipartisan and noted Rep. Jon Thorup, a Knoxville Republican, is co-sponsoring the two bills.
McFarland family
Cathie McFarland, Robert' McFarland's mother, and his brother, Dave McFarland, also spoke during the event to push the safety legislation.
"My son paid the ultimate price for his job," Cathie McFarland said. "It's something that should not happen to people in the prison system. I want the people who work there to be safe and go home to their families. We need everyone to come together to pass these bills."
Dave McFarland said, "Our family made a promise to Robert that we would do everything in our power to make a change. Correctional officers protect us every day and must be considered public safety personnel."
Corrections chief
Beth Skinner, director of the Iowa Department of Corrections, was asked during a Wednesday House Justice Systems Appropriations subcommittee if the Anamosa prison was short-staffed.
She said all of Iowa's prisons are short-staffed. She didn't know if having 10 more staff members at Anamosa would have prevented the two deaths March 23, adding more staff doesn't necessarily mean more security.
Skinner said the department has added 43 new positions at Anamosa.
"This has impacted our family, our team in corrections," Skinner told the subcommittee. "I'm seeing a lot of good things come out of staff, it becomes stronger, they become more hopeful. I think we've become stronger as an agency. Our staff are committed to make the necessary changes to make our prisons safer and our community-based corrections safer."
Robert McFarland and Schulte's names will be added to the National Peace Officer Memorial in Washington, D.C., during National Police Week on May 11 to 16, Skinner said during her budget presentation to the subcommittee.

(c)2022 The Gazette (Cedar Rapids, Iowa)
McClatchy-Tribune News Service