Is COVID-19 a wake-up call for correctional officers?
If we are going to survive COVID-19 and our jobs as correctional officers, we need to take a look at our health and make some changes
---
By Maya J. Mason
COVID-19 has changed the way we operate in both our facilities and our personal lives. For the most part, it seems that we are working with the goal of avoiding getting the coronavirus. I wonder how many of us are also thinking about what we need to do to survive if we do contract the virus.
The fact is, some people are at a greater risk to die from COVID-19. We know that age matters. But so do pre-existing conditions such as heart disease. This is what has me concerned. Did you know that correctional officers are at a 50% greater risk of heart disease? We also have higher rates of lung disease and liver disease due to higher amounts of smoking and alcoholism than the average person and higher rates of high blood pressure due to unresolved stress and trauma.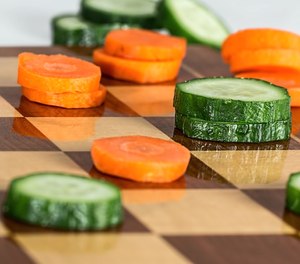 Life expectancy for correctional officers is 59 years. Correctional officers are already not taking enough care of themselves, now many of the factors that put us at risk to die by 59 are further threatening our lives with the arrival of COVID-19.
In addition to our pre-existing conditions most, if not all, of us are essential workers in a high-stress time. This means we are not able to socially distance and we are potentially working longer hours with scared or agitated inmates. This will likely impact our sleeping and eating patterns, which is not good for wellness either.
But this type of work environment is not significantly different from our norm. This means we may continue to normalize hiding our emotions, drinking away our trauma, not sleeping enough and not eating right.
I want my corrections brothers and sisters to do what they can to prepare themselves to put up a strong fight against COVID-19, but eventually, this threat will pass. And when it is all over, will you continue to take better care of yourself? Will you promote habits for a strong mind as well as a strong body? Will you fight for a stronger immune system? Because just as tragic as an untimely death from the coronavirus, it will be tragic to lose you at 59 years of age to heart disease.
As the coordinator of my agency's peer support team, I already know and practice many things to help boost my mental health and therefore my physical health. However, when Minnesota's Governor predicted that up to 80% of the Minnesotans would contract COVID-19 over the next couple of months, I decided I needed to up my game. In the process of coming up with a plan for myself, I realized that most of what I can do to protect myself from dying from COVID-19 are the same things I can do to extend my life past 59 years.
Here are my tips for things you can do to help strengthen your immune system and generally improve your health and wellness. Everything you do to improve your health is like putting money in a piggy bank; while dollar bills will help you reach your goals sooner, every penny counts. Whether you make big changes or small changes or likely a combination, any changes you can make are valuable.
Eat a balanced diet
Eat a balanced diet, but most importantly consume lots of fresh fruits and vegetables. While protein is needed for strength and carbohydrates/sugars for energy, fruits and vegetables will help develop a strong immune system. You especially want to eat dark green vegetables for iron and oranges for vitamin C. Fruit and vegetables are the best way for your body to get and absorb your vitamins, but you can also take a multivitamin.
Drink lots of water and cut back on your sugary and caffeinated beverages
Swap out your lunch soda or your third cup of coffee for a large glass of water. If you cannot fathom swapping, at least consider matching. For each cup of coffee or can of soda, drink a full cup of water. Dehydration is a major cause of headaches and disorientation, so on top of improving your health, a little bit more water may make your shifts more enjoyable and your drive home less arduous.
Get plenty of sleep
We all know eight hours of sleep is ideal for most humans. However, correctional officers work strange hours and variable shifts, so this is not always possible. Still try to make sleep a priority because it is so important for a healthy immune system. Schedule your sleep and don't give up scheduled sleep time unless you absolutely have to. If you have trouble sleeping, there are lots of resources online to help you get to sleep and stay asleep.
Have a variety of options to calm your nerves
I don't judge the person who has an occasional couple of beers after work, but we all know that too much drinking can be tough on our livers. Try exercise, talking, painting, journaling, knitting, driving, cooking, etc., as other options to reduce your need to use alcohol or nicotine for stress relief.
Be thoughtful about over-the-counter meds
Whether you get COVID-19 or not, you will likely get sick again in your lifetime. Have basics on hand so that you don't have to run out to get them after you are sick. Have some aspirin, Tylenol, Tums and Imodium on hand, but don't overuse your medications. Tylenol abuse can cause damage to the liver, while aspirin overuse can cause damage to the stomach. Make sure you really need a medication before you take it. Your headache may have been caused by being dehydrated, so make informed decisions before popping any pills.
Stock up on "sick essentials"
Keep cans of broth (or better yet, cartons of bone broth) on hand along with bottles of Gatorade or Pedialyte. Make sure you have a humidifier or two, lots of tissues and some mentholated chest rub. If you're sick, food might not seem appetizing, but you need to keep your strength up so, eat as normally as you can if you are not vomiting. Switch to broths if your stomach can't handle anything else. Drink Gatorade or Pedialyte instead of water to help balance your electrolytes. Make sure you run those humidifiers to help keep nasal passages from drying out and breathe in your mentholated chest rub to help keep your airways dilated. Finally, I recommend splurging on the lotion tissues, if you wipe your nose enough times, it's nice to have a tissue that doesn't immediately rub your nose raw.  
Pay attention to your body and stay in touch with your doctor
Pay attention to your body and how it changes. Sometimes small changes are an indication of something important going on with your health. If any changes in your body just don't sit right with you, loop in your doctor. 
The coronavirus is a threat to all of us but so are so many habits correctional officers often develop. If we are going to survive COVID-19 and our jobs, we need to take a look at our health and make some changes.
---
About the author
Maya J. Mason is a facility-based juvenile probation officer in Anoka County, Minnesota. She has worked in the criminal justice field for more than 10 years after completing her bachelor's degree in legal studies and a minor in criminal justice at the University of Wisconsin Madison. Maya primarily works with female offenders with extensive trauma histories. Maya is the founder and coordinator of the Anoka County Juvenile Center's Peer Support Team. Maya also writes for Twiniversity and MN Parent Magazine.