Ky. may buy private prisons to address rising inmate population statewide
Gov. Andy Beshear hopes the purchases in high-unemployment areas would attract corrections officers to the vacant positions, ease overcrowding at local jails
---
John Cheves
Lexington Herald-Leader
LEXINGTON, Ky. — Gov. Andy Beshear said Friday that his administration is exploring the possible purchase of two private prisons as part of its ambitious plan to address the steadily rising inmate population that drains hundreds of millions of dollars from Kentucky's state budget each year and dangerously overcrowds local jails that hold the spillover.
Beshear did not offer an estimated cost for the prisons, but he said the state already expects to pay $115.3 million in additional prison costs just to finish the current fiscal year and make it through the next two-year budget.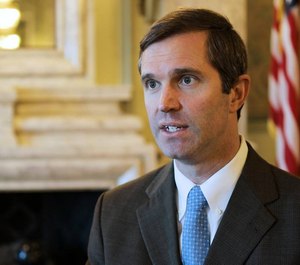 For a comparison, he added, Kentucky could have helped local school districts pay for full-day kindergarten statewide for about $90 million.
"That is the missed opportunity," the governor said.
The state Department of Corrections has contracts with Nashville-based CoreCivic to house inmates at its 866-bed prison in Lee County and its 656-bed prison in Floyd County, although the latter — which has not yet opened — is only to be leased for space by the state, so Kentucky correctional officers are supposed to manage the facility.
Meanwhile, Beshear said at a news conference, crumbling state-owned prisons have lost 1,269 beds just since 2016 as facilities age and unsafe dorms must close. And state prisons like Kentucky State Reformatory in Oldham County, where unemployment is low, can't attract correctional officers for the starting salary of $30,000, he said.
Given all that, purchasing two newer prisons in rural Eastern Kentucky, where unemployment rates are higher, might make sense, Beshear said. Also, the governor said, he opposes the concept of private, for-profit prisons.
"We should be housing inmates in state-owned, state-run facilities," Beshear said.
"Now, getting there requires us to address the overall challenges," he said, jerking a thumb at a chart showing the state's rising incarceration numbers. "While I think it's immoral, admittedly it is hard to criticize decisions that had to be made with that spiking incarcerated population. If we can change that, we change the decisions that are available to us."
In a brief prepared statement released late Friday, CoreCivic said: "As a government solutions company, we pride ourselves in being flexible and working collaboratively with our government partners to identify the right solution."
Beshear challenged the General Assembly to make criminal justice reform a top priority of the 2020 legislative session that has concluded its second week.
Kentucky currently has 23,880 state inmates, roughly half housed in prisons and half in local jails. For every 1,000 inmates that Kentucky can eliminate, the state budget gets about $12 million it can spend on education, health or other pressing needs, Beshear said.
"Criminal justice reform isn't just the right thing to do — and I believe that it is — it's the moral thing to do. It is absolutely necessary to do for this budget, but most especially, for every budget going after us," he said.
So far this winter, the only criminal justice reform that lawmakers have discussed much is bail reform, to reduce the pre-trial population clogging local jails. A bail reform bill died last year for lack of action after prosecutors and judges opposed it.
Data shows that bail decisions in Kentucky are arbitrary from courtroom to courtroom, depending on the discretion of the judge.
In Martin County, 68 percent of defendants are released before trial without having to pay bail. But at the other end of the state in McCracken County, only 5 percent get that chance. In Fayette County, which has a team of judges, a defendant's chances depend on who is randomly assigned to hear his case. Overall, just 18 percent of Fayette County defendants are released without bail.
Also, there is no rational connection between the bail amounts assigned by judges and the risks that defendants are believed to pose either for re-offending or failing to appear in court, according to a study this year by the Kentucky Center for Economic Policy in Berea. Defendants who are rated as low, medium and high risk all are about as likely as each other to get bonds set at the same levels.
Beshear said he would support new bail reform legislation. But he said he also wants to see measures that address the sentences for felony drug possession — with the recognition that some addicts need to be held in custody for their own safety, he said — as well as the revocation rates for people who are on probation and parole.
McClatchy-Tribune News Service