Short-staffed Kan. prisons raise safety fears
El Dorado and Lansing correctional facilities have about 200 staff vacancies combined
---
By Jonathan Shorman
The Wichita Eagle
TOPEKA, Kan. — Two of Kansas' largest prisons are struggling to find enough workers, costing taxpayer dollars for overtime pay and, some say, jeopardizing security at the facilities.
El Dorado and Lansing correctional facilities have about 200 staff vacancies combined. State officials have been moving inmates out of Lansing to alleviate pressure there, but that in turn has caused strain at El Dorado.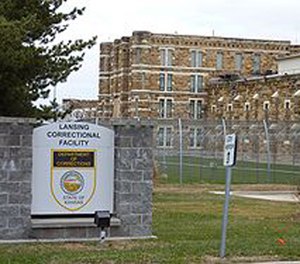 Corrections officers in El Dorado moved to 12-hour shifts this month, and in late June a number of inmates refused for several hours to return to their cell blocks.
The Kansas Department of Corrections says the unrest June 29 didn't result in any violence, but an emergency call log indicates violence did occur and at least one inmate had a weapon.
A union representing workers at the prisons and some lawmakers say the staffing problems create unsafe conditions. The tough work environment in turn makes recruiting workers even more difficult, the union says.
"Right now, I don't disagree. The union is correct. There are not enough officers in the system and it is compromising security," said Rep. J.R. Claeys, R-Salina.
Corrections Secretary Joe Norwood said in an interview he didn't believe staffing levels had any bearing on the unrest at El Dorado. He acknowledged the agency is having a harder time than in the past attracting applicants, but outlined increased recruitment efforts.
"We're going to continue to man the security posts that are critical to the operations and critical to the safety and security of the facility," Norwood said.
"So what that means is obviously staff is working more overtime, more hours each day."
That overtime is costing taxpayers. The state was on track to pay out $2.2 million in overtime at Lansing alone during the 2017 fiscal year, according to information provided to lawmakers this spring.
The state plans to eventually build a new prison at Lansing that will house more inmates. It hopes to enter into a contract for its construction this fall.
Shifting prisoners
KDOC has been transferring prisoners out of Lansing in an effort to reduce the burden on staff, Norwood said.
Since early February, the inmate population at Lansing has dropped by more than 340. Meanwhile, El Dorado's population has increased by about 260.
Robert Choromanski, director of the Kansas Organization of State Employees, said El Dorado has seen "mass resignations" recently. Up to a dozen workers have quit within the past two weeks to a month, he said. He points to the influx of prisoners from Lansing as a cause.
Norwood said KDOC plans to reduce the number of inmates at El Dorado temporarily until it can hire more staff.
The agency has been double-bunking cells at several prisons in order to add capacity, resulting in 350 more beds at El Dorado, he said. The entire facility is now double-bunked.
No prison is triple-bunking inmates, and the agency has no plans to triple-bunk, he said.
With double-bunking, El Dorado has a capacity of 1,955. Lansing has a capacity of 2,405. Statewide, Kansas prisons have the ability to hold 10,470 inmates and currently hold 9,713.
Searching for workers
The number of staff vacancies has risen sharply at both prisons since earlier this year.
As of July 5, Lansing had 105 vacancies and El Dorado had 94, according to KDOC. The Lansing number has climbed from 68 openings in February, according to information provided to lawmakers then. A similar figure was not provided for El Dorado, but Choromanski told the Associated Press that the facility had 60 vacancies in May.
Lansing calls for a staff of more than 680, according to PowerPoint slides KDOC provided to lawmakers in March. The 2016 State of Kansas Workforce Report listed 483 positions for El Dorado.
Norwood said the state is finding it difficult to recruit prison workers because the economy has improved.
Previously, the agency competed for people looking for a job; now, he said, it must try to lure people who already have a job.
El Dorado Mayor Vince Haines said other area industries also sometimes struggle to find entry-level workers. He stressed that the community as a whole views the prison as an asset and that it offers good employment.
"Unfortunately, I don't think the salary is probably as high as what the job maybe demands, and that may or may not play into it," Haines said.
Starting pay at the facility is $13.95 an hour.
Some prison workers got raises this year after the Legislature approved a pay raise for state workers. Additional raises would likely take legislative action, Norwood said, but he held open the possibility that the department could increase some pay by finding efficiencies.
In late June, the agency sent mailers to more than 18,000 homes within a 60-mile radius of the El Dorado prison. It has seen an uptick in job inquiries since the mailing. El Dorado receives inquiries daily, he said.
"We're upping our recruitment efforts at that location," Norwood said. "So hopefully we will be able to address that issue in the next 90 days or so to alleviate some of the issues there."
Lansing project looms
The new prison Kansas plans to build at Lansing will be more efficient than the old one, the agency says. It says this will lead to staffing reductions that will eventually save millions a year in payroll costs.
KDOC's plan to build a new prison at Lansing includes demolishing its medium-security section, which houses hundreds of inmates. The oldest parts of the prison, dating back to the 1860s, would be preserved.
A new prison would offer better conditions for workers and inmates, the agency says. It would also be able to accommodate more prisoners while cutting the number of staff needed by nearly 300.
The reduced staff would save the state about $14 million a year. Norwood said staffing reductions would be accomplished through attrition.
"We will gain considerable efficiencies," Norwood said.
The agency wants a contract in place with a private company for the construction by this fall. Lawmakers have authorized a lease-purchase agreement and as much as $155 million in bonds to finance the project.
Demolition could begin this winter, Norwood said. Construction could take up to three years.
KOSE has said KDOC is moving inmates out of Lansing in anticipation of the demolition and construction. Norwood said the moves are not directly related to the new prison project.
'Just doesn't feel right'
Sen. Laura Kelly, D-Topeka, said the situation at Kansas' prisons "just doesn't feel right."
"And I'm worried about where it's going to go now because of the way that it seemed to be handled," Kelly said. " 'Don't worry, there's nothing wrong here,' rather than 'We have a problem and here's what we plan to do.' "
Norwood said his hope is that the agency will be able to address the staffing vacancies at El Dorado in the short term.
In the worst-case scenarios, understaffing can lead to injuries or the death of a corrections officer, or a prison escape where the escapee commits some sort of crime, Claeys said.
He referenced an inmate who escaped from Lansing on June 30 when he drove a state vehicle away from the prison. The inmate, James Stewart, was later captured that same day.
The escape happened shortly after the unrest at El Dorado.
"That points to a problem," Claeys said. "That points to a real big problem."
———
©2017 The Wichita Eagle (Wichita, Kan.)