Feds: Vice Lords gang conspiracy includes hits on inmates
Imprisoned members bragged about overseeing crews in Michigan's prison system
---
By Robert Snell
The Detroit News
        
DETROIT — Federal agents Thursday arrested more than three dozen members and associates of the Almighty Vice Lord Nation street gang in an attempt to stem the rise of gun violence in one of the nation's most dangerous cities.
The arrests coincided with prosecutors unsealing a 39-count indictment accusing alleged Michigan gang leader Kevin "Spaghetti" Fordham, 51, of Detroit and 39 other alleged enforcers, associates and high-ranking deputies of orchestrating a racketeering conspiracy since 2012. The alleged conspiracy involved murder, drug dealing, extortion, stabbings and murder plots, including hits on inmates within the Michigan Department of Corrections.
The 172-page indictment follows a three-year investigation that led to 38 arrests Thursday during a series of raids in Detroit that disrupted three conspiracies to commit murder and led to the seizures of 15 firearms, drugs and cash.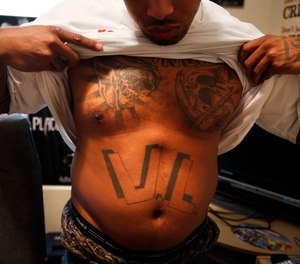 The indictment provides an intimate view of a sprawling investigation driven by a rise in violent crime in Detroit since 2019 and the involvement of what prosecutors described as a sophisticated gang staffed by members with a fatalistic view.
"We can advance, they can lock us up or we can end up dead," the gang's alleged chief enforcer Davun Baskerville said in a recorded 2019 phone call, according to the indictment.
The indictment, which also includes drug and firearms charges, is among the largest racketeering conspiracy cases in federal court history in Detroit. In recent years, more than 100 people have been charged with racketeering conspiracy — punishable by up to life in prison — as Detroit police and federal investigators tried to curtail violent crime in Detroit. Those convicted of federal racketeering-related crimes include members of the Seven Mile Bloods gang, the Devils Diciples Motorcycle Club, Highwaymen Motorcycle Club and former Detroit Mayor Kwame Kilpatrick.
A court-appointed defense lawyer listed in the court filing did not respond to a message seeking comment Thursday.
Federal law enforcement officials pointed to the arrests Thursday as the first of several upcoming crackdowns on violent crime in Detroit. The city has seen nonfatal shootings rise 87.8% since 2019 while the number of homicides climbed 47.7%.
"Violent crime rates continue to rise, and with summer upon us, that is likely to continue to rise," Acting U.S. Attorney Saima Mohsin told reporters.
The Vice Lords gang in Detroit was characterized as highly organized, hierarchal and violent, run by leaders who controlled various parts of Detroit and approved hits on inmates in Michigan's prison system, according to the indictment. That included arranging for one felon to be stabbed in the face in early 2019, according to the indictment.
The national gang was founded in Chicago in the 1960s and operates several branches in Michigan that are overseen by a governing board that is empowered to order hits on people. The hits are known within the gang as Key 21 orders.
The investigation, which involved personnel from Detroit Police and the Bureau of Alcohol, Tobacco, Firearms and Explosives targeted leaders from five branches of the Vice Lords.
"This is just the beginning," said interim Detroit Police Chief James White.
The Vice Lords are social media savvy and used Facebook to communicate among members, prosecutors said. For example, in July 2017, Fordham posted on Facebook that he was the chief enforcer of the gang, according to the indictment.
The indictment indicates prosecutors monitored phone calls and other communications involving accused gang members.
In one recorded phone call in May 2019, high-ranking leader Terry Douglas was overheard taking credit for arranging the assault of a fellow prisoner, prosecutors said. In another recorded call in September 2017, Fordham is accused of discussing gang operations and discipline with an inmate.
"They either get in tune or get tuned up, that's it," Fordham said, according to the indictment.
Members also targeted "snitches" who were perceived to be cooperating with law enforcement — a cardinal sin within the rules of the gang, according to the indictment.
Baskerville, for example, was overheard on a recorded phone call in April 2018 talking about retaliating against one person who led to an indictment being filed against members, according to the indictment.
Two years later, in April 2020, the person was shot, prosecutors said.
Prosecutors also say in March 2019, Baskerville discussed a 2015 triple shooting that targeted witnesses in a separate criminal investigation.
"We shot they b— asses," said Baskerville in one recorded phone call, according to the indictment. "This s--- ain't over with. I can't wait."
Members also engaged in pimping women, prosecutors said.
Investigators seized Facebook messages, including some from Devan Turner-Bankhead, who is accused of heading one branch of the gang in Michigan.
"I gotta girl makin $ for me...U know and tricks," he wrote to another member.
"What she looking like?" the member wrote.
In response, Turner-Bankhead sent the member 11 photos of female body parts.
The gang's drug division offered a wide range of narcotics, everything from cocaine to heroin, fentanyl and prescription pills.
Imprisoned members bragged about overseeing crews in Michigan's prison system. Leader Artise Johnson said he controlled an entire "squad," according to the indictment.
(c)2021 The Detroit News
McClatchy-Tribune News Service