Dealing with bomb threats in the world of community corrections
Call sheets, mock drills and suspicious package training can help your personnel deal with threats effectively
---
Working in the criminal justice system means you work with – yes, that is right – criminals. Some of these criminals will stop at nothing to cause issues and concerns in the world of community supervision.
One of the most elaborate ways of disturbing daily activities in a community corrections department is a bomb threat. Although most of the time, they are just threats, in the world of community corrections, any threat needs to be fully investigated. Bomb threats are not only time-consuming, but they disturb daily activities in a CSCD. Disruptions can, however, be minimized using some basic steps. 
Knowledge is the key to survival, when situations occur, keep the entire team informed. Keep a bomb threat call sheet handy in all offices. Make sure all employees are taught how to use the sheet and how to document the information on the sheet.  
Policy and procedures need to be kept confidential. Bomb threat response and protocols need to be kept in-house and discrete, as it relates to your emergency response plan. If the clients who are serviced at the CSCD become aware of the vital information and procedures that a CSCD has in place when handling a bomb threat, those same clients could use the information to their advantage when selecting your department as a target for a potential bomb threat.
Your bomb threat/emergency response plans should be designed around your individual location and building structure. Any potential threat that could occur should be looked at and studied with the location and building structure in mind. It is often easy to acquire another department's emergency response plan and then make it your own, but as marvelous as their plan may seem, it was designed with a different location and building layout in mind. The results could have different outcomes for your facility. 
Vary the routine in your department. Rotating security officers and changing entrance codes should be a common practice; it should be done at random and as often as possible. 
Full department training days should be planned throughout the year. Practice makes perfect, and during emergency simulation training, getting procedures right is essential in correcting mistakes. It is also critical in making policy and procedure changes. Practice evacuation plans and identify gathering locations during training scenarios to address issues and concerns as soon as possible. Mock drills can ensure your personnel can effectively evacuate the building and handle potential threat situations should the need arise. 
Use modern technology to its fullest potential. Apps (e.g., Zoom) and smartphone functions (e.g., face time) are tools that can be used to keep employees and managers up to par with meetings and debriefs when they are not able to be present in person. 
All employees should undergo suspicious package training. Inform employees of the potential threats that can arise from suspicious packages and provide hands-on experience to bring a sense of real-life situations to the learning table.  
Create a safety committee. The committee should meet monthly to review various response protocols. The committee should formulate future training events with different scenarios. They should meet after the training events to discuss the training scenario and ensure that it was proactive and effective. Safety committee/law enforcement meetings are highly encouraged. Allowing the local law enforcement to access the building and keeping them up to date with officers' office designations and a full list of building occupants, blueprints and layouts is a must. This allows for a law enforcement agency to create and tailor an operation plan for emergency incidents specifically for your agency.
Last but not least, instill a culture of safety in your department. When officers and employees work together as a team to ensure safety in a department, the atmosphere and agency will reap the rewards.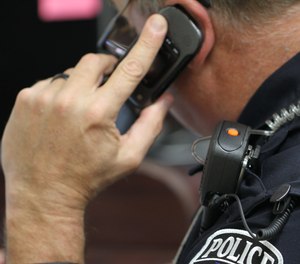 Dealing with bomb threats is an issue every department will eventually encounter. Documenting the incident and discussing the response and actions of the department with all employees is critical in getting the positive outcome that is needed to instill a culture of safety.  
---

Read more
Weapons of opportunity in community corrections
Sit on both sides of the desk to assess the potential hazards in your office
---
Authors' note: I would like to thank my Executive Director, Faustino "Tino" Lopez, for allowing me the opportunity to submit this article for publication. Correspondence concerning this article should be addressed to Leo Perez, Hidalgo County Community Supervision and Corrections Department, 3100 S. Bus Hwy 281, Edinburg, Texas 78539; leo.perez@hidalgocontycscd.org.