Field visit encounters: How to identify a meth lab
it is important for probation officers to be able to identify the "telltale signs" of drug production
---
Methamphetamine is a powerful, highly addictive drug that affects the central nervous system. It takes the form of a white, odorless powder that easily dissolves in water or alcohol. This drug is potent, and low in price.
The drug can be easily made in small covert laboratories, with relatively inexpensive over-the-counter ingredients such as pseudoephedrine (a common ingredient found in cold medications). These small covert labs are referred to as meth labs in the law enforcement community. A meth lab is a building, trailer, or house where meth is made and sometimes stored. A meth lab will display "telltale signs" of drug production and storage. It is important to learn to recognize these "telltale signs" in an effort to identify a meth lab should a probation officer come across one during a home/field visit. 
Approaching a home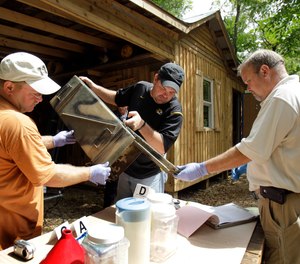 As officers approach a home, they should pay close attention to the following "telltale signs" to identify a suspected meth lab: 
Unusual odors: Making meth produces powerful odors that can smell like ammonia. These odors have been compared to the smell of cat urine or rotten eggs. As officers approach the home/building, the smell should be noticeable well before officers approach the front door. 
Covered windows: Drug dealers who make meth (aka cooks) often blacken or cover windows to prevent outsiders from seeing in. This is done for safety and security reasons, (meth labs have been known to be raided by other drug dealers). This is done with newspaper cardboard, foil paper, wrapping paper, paint, etc. 
Strange ventilation: Meth labs require ventilation because of the amount of toxic fumes created by the cooking process. Cooks will open windows and may even set up window fans, furnace blowers and other unusual ventilation systems in an effort to remove the toxic fumes created by the cooking process within the structure. 
Building security: Cooks often set up meth lab security measures, such as "Keep Out" signs, video cameras/hunting cameras, and even baby monitors. The cameras are placed outside to warn cooks of persons/law enforcement approaching the premises. Do not be surprised to see dogs chained near the entrance gates to the home.
Dead vegetation: Cooks will not travel far from the meth lab in an effort to dump toxic substances. Cooks will dump the chemicals in their yards, leaving "dead spots" in the grass/flowers. This dead foliage is clear evidence of chemical dumping.
Excessive trash: Meth labs produce large quantities of unusual waste that may contain:
Packaging from cold tablets
Lithium batteries that have been torn apart
Used coffee filters with colored stains or powdery residue
Empty containers – often with puncture holes – of antifreeze, white gas, ether, starting fluids, Freon, lye, drain opener, paint thinner, acetone, alcohol, or other chemicals
Plastic soda bottles with holes near the top, often with tubes coming out of the holes
Plastic or rubber hoses, duct tape, rubber gloves, or respiratory masks
The appearance of the structure: Houses and other structures hosting meth labs vary in their appearance. A structure hosting a meth lab may be unkempt, unsanitary and full of chemical odors. On the other hand, the structure may also appear very normal and orderly. The appearance of the structure depends on the care that the meth manufacturer takes to hide his or her unlawful activities.
Presence of meth ingredients: The best indicators of meth production are the presence of the ingredients used to make the drug. Homes containing a meth lab may have either a large amount of a single meth ingredient (such as over-the-counter cold medications) or a significant number of ingredients and supplies used to make meth. Here are some typical meth-making ingredients and supplies:
Cold medications containing ephedrine or pseudoephedrine
Lithium batteries
Ether and/or camping fuels
Anhydrous ammonia
Hydrogen peroxide
Sulfuric, muriatic and/or hydrochloric acid
Coffee filters
Funnels and turkey basters
Improvised glassware 
While many of these ingredients and equipment are common, the amounts and the form of the ingredients needed to manufacture meth are different than what the average person would possess. For example, multiple boxes of cold medicine, or cold medication removed from blister packs, may indicate the presence of a meth lab. The same is true for coffee filters covered with strange stains or powders.
Meth-making equipment: In addition, there may be strange types of equipment or apparatus in the house used to manufacture meth. For example, soft drink bottles with hoses attached or cans of camping fuel with holes punched through the sides or bottom indicate the presence of a meth lab.
The behavior of occupants: Meth makers tend to act in a manner that is extremely paranoid and secretive. For example, they may monitor passing cars, show great suspicion toward strangers, and – as noted above – construct elaborate security systems around their homes. Residents of houses containing meth labs may remain inside their homes for extended periods of time. Many meth addicts and meth makers are not only paranoid and secretive but also unemployed.
By the same token, residents of houses and other structures containing meth labs often go outside to smoke. They do this to avoid igniting a fire or explosion when matches, lighters, or cigarettes come into contact with the highly combustible chemicals and fumes found in a meth lab.
Although residents of a house or other structure containing a meth lab may stay in or near their homes, they often receive a large number of visitors, especially at night. These visitors may be bringing supplies, taking away meth, using meth, hanging out, or any combination of these activities.
During the field/home visit 
If you suspect that you have located a meth lab with possible illegal activity while making a field visit, be as discrete as possible when collecting data for your investigation. Try your best to take a partner with you. A partner can help in multiple ways, as one officer can take photos and collect data discretely while the other officer conducts a safety check of the immediate area. A home layout and property diagram are keys to a successful law enforcement operations plan. As you walk the property of the home, make notes of the home layout and create the diagram as soon as possible when your visit is completed. 
In the event a law enforcement agency chooses to investigate the home, having a property diagram could change the operation plan of entrance for the agency. The perimeter layout is very helpful. If your client provided the address to the home on a court document or intake paperwork, you as the assigned officer or any law enforcement agency (in the state of Texas) can enter the home without a warrant. This makes your home/field visit a key component of the law enforcement operations plan.
Contacting law enforcement
If you suspect your client is operating a meth lab, alert your department and your local law enforcement agency immediately. When introducing the evidence to your local law enforcement agency, give authorities as many details as you can about the suspected criminal activity, and make sure to point out as many of the "telltale "signs that you located. 
I cannot stress enough how important photos and videos are to an investigation. Take advantage of your presence at the time of the home/field visit and take as many photos and videos as you possibly can. Providing this to a law enforcement agency can make or break a case.
A property where a meth lab is in operation will typically be housing drugs, guns, and or other illegal items. Focus on the home when documenting and photographing the property, and if possible take as many photos as you can of the vehicles in the home. Provide law enforcement with a full debrief on your client in order to inform the law enforcement agency about your client's past and present behavior during community supervision.
Safety is a concern
As a probation officer who has conducted multiple home visits, I can assure you; where there are drugs there are guns and if there are no guns there are dogs. Dogs are cheap and reliable alarm systems. They should be treated like lethal weapons and should be treated with respect and vigilance when conducting field/home visits. Take every precaution you can when dealing with these animals and advice law enforcement if dogs are present.
Our case file documentation can be the missing puzzle piece in an ongoing law enforcement investigation. Take the time and effort to conduct your home/field visit with due diligence. Remember, we are each other's greatest teachers.
Bibliography
Nevada Attorney General Office. (2012.) Recognizing a meth house/structure.
Department of Justice. Methamphetamine Lab Identification and hazards fast facts.
Washington State Department of Health. Meth Labs.
Daytona Beach Police Department. How to ID a Meth Lab.
ARK Behavioral Health. Meth Labs: 7 telltale signs of meth & other drug labs.