Man convicted of killing NYPD officer in 1988 granted parole
NYPD Officer Edward Byrne was killed by drug dealers while guarding the home of a witness; he was just 22 years old
---
By Thomas Tracy
New York Daily News
NEW YORK — One of the four men who gunned down rookie NYPD Officer Edward Byrne more than 35 years ago has been granted parole — a move that sent shock waves through the law enforcement community Wednesday.
Scott Cobb, 60, will walk out of the Clinton Correctional Facility in Dannemora, N.Y., a free man next month, Police Benevolent Association President Patrick Hendry said.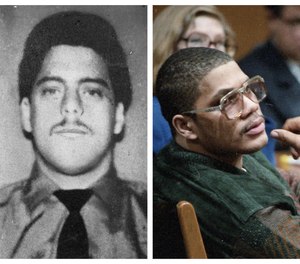 "All cop-killer paroles are infuriating, but this one is especially outrageous considering the shock waves this crime sent through the NYPD, the city and nation," said Hendry, who worked at the 103rd Precinct in South Jamaica, where the 22-year-old Byrne was assigned when he was blasted in the head by drug dealers while guarding the home of a witness on Feb. 26, 1988.
As a young officer, Hendry would often walk past the plaque for Byrne every day as he started his tour, the union president said.
"New York City police officers are absolutely sickened by this parole decision, and New Yorkers who care about safe streets should be, too," Hendry said, calling on state legislators to "fix the broken parole system so that none of the other Byrne assassins go free."
Cobb is expected to be released on Aug. 9, 2023, according to state prison records. He's been eligible for parole since 2013, but this is the first time the parole board granted his request.
The three others accused of killing Byrne, David McClary, Todd Scott and Phillip Copeland, are all still in prison, but are expected to go before a parole board in the next few years.
The foursome were acting on orders from notorious drug dealer Howard "Pappy" Mason, who orchestrated the hit from prison and fronted the $8,000 for the deed.
Mason is currently serving a federal life sentence for organizing the assassination.
The witness, known only as Arjune, a Guyanese immigrant, was going to testify against Mason's drug crew. Drug dealers had already firebombed Arjune's home on 107th St. and Inwood Ave. when the department decided to have a cop posted in a squad car outside.
Arriving officers found Byrne sitting upright in his cruiser, a folded copy of the Daily News and a portable AM-FM radio on the seat. Testimony at the trial showed that vengeful dealers had driven by the home at least twice but decided it would look weak to kill a female cop or a black officer.
Byrne's death would forever be known as a turning point in the NYPD's war against drugs. The NYPD marks the anniversary of his death each year with a special service.
"The assassination of Police Officer Eddie Byrne was a ruthless act that captured the city's attention like few others," Police Commissioner Raymond Kelly said in 2008.
"When Eddie Byrne was assassinated, it galvanized cops and the community to work together to take our streets back from these violent drug gangs," Hendry added. "That was Eddie Byrne's legacy, and the insane Parole Board is tearing it to shreds."
According to figures compiled by the PBA, the state Parole Board has released 36 cop killers since 2017, 32 of whom killed New York City police officers.
____
©2023 New York Daily News.
Visit at nydailynews.com.
Distributed by Tribune Content Agency, LLC.
McClatchy-Tribune News Service