PRESS RELEASE
The BlackHawk® Action Photo Contest; Featuring Your Images of "Hands-on, Down-and-Dirty Operations"
---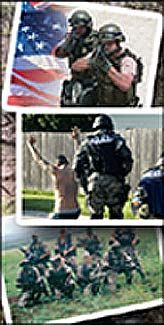 It's that time again - the BlackHawk® Action Photo Contest! BlackHawk® equipment is built for "hands-on, down and dirty operations." It is in use by military units and law enforcement professionals around the world in defense of freedom, as well as many private sector applications. BlackHawk® would like to honor those using our gear by featuring them in actual operational photos. Entries to the BlackHawk® Action Photo contest may be submitted simply by e-mailing photos@blackhawk.com with the required contact information stated below and your action photo(s). E-mailing us photos is a confirmation that you grant permission and rights to BlackHawk® to use the photo image you have attached.

DEADLINE FOR ENTRIES: October 31, 2004

BlackHawk® will recognize three photographs for best illustrating BlackHawk® gear in action:
- 1st place will be awarded $1,000 credit to gear up with BlackHawk®
- 2nd place will be awarded $500 credit to gear up with BlackHawk®
- 3rd place will be awarded a $250 credit to gear up with BlackHawk ®
Please provide:
Name:
Address:
E-Mail address:
Phone:
Photo Location (if possible):
Date:
Description of photo:
Important notice: By e-mailing us photos, you are confirming you have sufficient permission of any recognizable persons appearing in the photograph to and, in fact, do grant to BlackHawk® Products Group the right to display their photograph submission online or in printed material. Credit will be applied for merchandise and shipping. No cash value.