Spotlight: Reveal body cameras are with you on the front line
Providing reassurance, confidence and support for the corrections community
---
Company Name: Reveal
Signature Product: D-Series body camera and DEMS 360
Website: https://www.revealmedia.com/
1. Where did your company name originate from?
The name Reveal came about by our products being an independent witness and revealing the truth, protecting officers and deputies.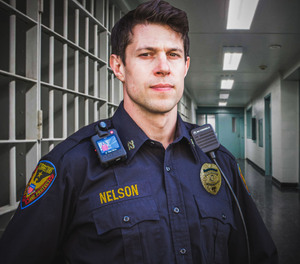 2. What was the inspiration behind starting your company?
We never underestimate what it means to be on the front line, whether in jails or on the highway. We wanted to create outstanding and beautiful products that helped make people safer and more confident at work.
3. What is your signature product and how does it work?
The D-Series body camera and DEMS 360 operate together incredibly closely. The body camera has a set of unique features such as a front facing screen, which is a game changer in terms of how people behave in front of officers. The D-Series also features best in class low light capabilities without needing to use infrared or night vision to achieve clear pictures. 
The camera has an easy to use red sliding switch to begin recording, and the articulated camera head makes sure the camera is facing the right way and capturing the right picture.

DEMS 360 automates the retention and management of videos, which streamlines and reduces the impact of introducing body cameras to staff.
4. Why do you believe your products are essential to the Correctional community?
All of the challenges that Police officers face on the streets are the same challenges that corrections officers face. Body cameras have become an essential tool to help protect officers, capture evidence and reveal the truth in policing, so Corrections facilities will also benefit from all of these things.
5. What has been the biggest challenge your company has faced?
The biggest challenge we have faced is getting our products into the hands of Correctional facilities. When we get into a facility our customers absolutely love us and our simplified, cost effective bundle which provides everything they need in a single package. The challenge has just been letting facilities know about us and what we're offering.
6. What makes your company unique?
We are the most experienced body camera company in the world and are the market leaders in Europe, including the UK, and Asia. We are on our 5th generation body camera and evidence management software, with over 10 years of learning and expertise shaping the products and services we offer. 

We have also created a bundle especially for small and medium sized facilities which gives them access to the highest quality products at a price range and system that suits their size.

7. What do your customers like best about you and your products?
Our customers love the quality of our cameras and evidence management software at the price they can get it for. From the moment they open the trial and eval kit and hold the products in their hands, they know they have made the right choice.
8. What is the most rewarding part of serving the first responder/local government community
We know the difference that the community make and are grateful to their service. Anything we can do to help protect them or make them feel more confident and proud of the work they do is a great privilege and something we strive to achieve.
11. What's next for your company? Any upcoming new projects or initiatives?
We're always in development, thinking ahead to the future of our products and services. We're excited about introducing even more features that give further power and ability to our customers to leverage the benefits of body worn video.

Request information from Reveal
Thank You!