Tiny cameras seen as future in law enforcement
---
By Jeff Martin
USA TODAY
FORT SMITH, Ark. — When Fort Smith, Ark., police officer Brandon Davis opened the door to a home during a domestic assault call Nov. 11, he faced a man aiming a handgun directly at him.
"Put the gun down! Put the gun down!," Davis screamed before fatally shooting Eric Wayne Berry, whose wife, Connie, had called police and said her husband was threatening to kill her, prosecutor Daniel Shue stated in his report.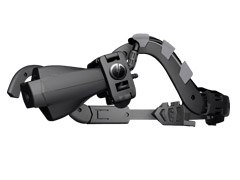 What happened in the confrontation was captured on video in a way some law enforcement officials say could dramatically change police work.
A tiny camera worn near Davis' ear showed clearly that the officer had acted properly, Fort Smith Police Chief Kevin Lindsey says.
The camera system, sold by Scottsdale, Ariz.-based Taser International, is being tested this month by officers in Fort Smith, Cincinnati, San Jose and Aberdeen, S.D.
"There's no doubt in my mind that this is the wave of the future in policing," Cincinnati Police Chief Tom Streicher says. "If we've got a way to actually record the events as they unfold, what better evidence is there for us to bring forward?"
Dennis Kenney, a professor at the City University of New York's John Jay College of Criminal Justice, says the technology has its drawbacks. "It raises tremendous privacy concerns," he says. "It's only a matter of time before one of these hits YouTube."
Representatives of Taser International say the video is transmitted to a secure site with no way for officers or others to tamper with it.
"You can't erase it. You can't edit it," says Sgt. Ronnie Lopez of the San Jose Police Department, where 18 officers are testing the system.
A variety of new cameras are being developed for use on officers and in police cars because of rapid advances in digital technology, says Deputy Chief Dean Hairston of the Danville, Va., Police Department. Hairston tracks the issue nationally.
Devices have gotten smaller, "and you have the ability now to capture and store a lot more data than you previously could have," Hairston says. "We're building things that allow us to have an electronic tether on that officer."
About $5,700 would pay for an officer to be equipped with the system for three years, says Tom Smith, co-founder and chairman of Taser International.
Tough economic times could make it difficult for some departments to afford the technology, says Elizabeth Smith, associate professor of political science at the University of South Dakota.
However, "if a police department is able to buy it and save a few million dollars in lawsuits, then it's probably worth it for them to do it," she says.
Lindsey says he thinks the cameras will become more prevalent in the next five to 10 years.
"I think the public has an expectation, and rightly so, that modern police departments have a way of recording the efforts of their departments," he says.
Copyright 2010 Gannett Company, Inc.

Request product info from top Corrections Body Cameras companies
Thank You!