New Live Streaming, Mobile App, Cloud Storage and Other Options for FirstVu HD Officer-Worn Video System Announced
Midwest Motorcycle Challenge Live Streamed May 15-16 on YouTube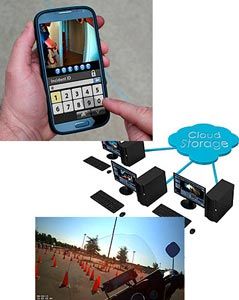 Digital Ally has announced several new options for its FirstVu™ HD Officer-Worn Video System, including live streaming capabilities that allow real-time remote situational awareness during incidents. All that is required is a Wi-Fi hotspot, such as that provided by a vehicle cell modem or mobile phone, to transmit high quality video at 30 FPS (frames per second). Numerous types of devices may be granted access to the stream, such as officer cell phones, supervisor or dispatch computers, and vehicle MDCs. While the live video feed is a feature of Digital Ally's new mobile smartphone app, this program is not required to transmit video. The mobile app is compatible with both on-site and cloud-based management and storage solutions.
To see the FirstVu HD's live streaming capabilities in action, contact Digital Ally for a demo or watch the live broadcast from 12:30 – 2PM on May 16, 2014 from the Midwest Motorcycle Challenge at: www.digitalallyinc.com/stream.
Digital Ally's new mobile app can do more than access a video feed or play recordings back from the FirstVu HD. It provides, at time of the event, a complete review process, streamlining the typical "report room paperwork" into an efficient workflow in the field. Recordings may be annotated with Event IDs, descriptions and notes; GPS tagged; and important events during the recordings may be marked. The app also allows control of the FirstVu HD and displays the remaining storage space and battery life. The mobile app will work with either cloud or on-site management and storage solutions, requires secure user authentication, and logs usage for chain of custody reporting.
Digital Ally will also be offering a highly cost effective cloud storage solution in addition to current on-site server storage options. Cloud storage offers certain benefits that may fit the needs of some agencies relative to local storage, such as removing the need for IT personnel if such individuals are not already available, a low upfront cost, natural disaster protection and offsite backup. However, since each department's needs and policies are different, Digital Ally can assist in the selection of the appropriate turnkey management and storage solution to fit both short- and long-term goals.
Other new features for the FirstVu HD include VuLink™, which allows the system to receive wireless triggers from a vehicle to automatically start recording just like or in conjunction with any Digital Ally in-car video system, a docking station which automatically charges the FirstVu HD's batteries while simultaneously uploading recordings to cloud or on-site storage, and additional mounting options.
About Digital Ally, Inc.
Digital Ally provides a complete line of vehicle video systems integrated into a rear-view mirror, utilizing compact monitor controllers, or laptops/MDCs; compact video systems that may be worn or mounted; a digital video flashlight; and LIDAR handheld speed enforcement systems.