PRESS RELEASE
Police Fleet Expo West Free Concert, Giveaway & Announcements
---
Digital Ally is sponsoring the "Yacht Rock" Concert by Summer Breeze on Thurs. May 1st, 2014 from 7:00 PM - 10:00 PM during Police Fleet Expo West in Kansas City, MO. Yacht Rock dominated the airwaves between the years 1976-1984. Yacht Rock tribute band Summer Breeze will be performing hits from acts such as Michael McDonald, Steely Dan, Toto, Christopher Cross, Doobie Brothers, Captain & Tennille and many more! Tickets to the concert are free as part of PFE West Registration, but space is limited, so please be sure to register early. Yacht attire optional!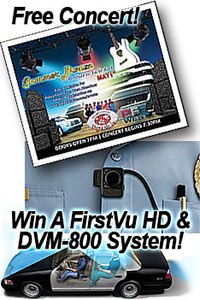 Digital Ally will also be giving away an "Ultimate Video Package" at PFE West booth #106, so stop by to enter for a chance to win a FirstVu™ HD Officer-Worn Video System with the new VuLink™ automatic recording capabilities, along with the powerful, new DVM-800 in-car video system! Those who wish to try the FirstVu HD can also enter for a chance to win their demo unit.
The FirstVu HD is considered the leading officer-worn video system for field of view, low-light capabilities, recording quality, batteries, mounting options and other considerations. The patent pending VuLink technology sends the FirstVu HD wireless triggers from your vehicle to automatically start recordings just like an in-car video system. It can even start recordings on both body and vehicle-mounted systems simultaneously and link the recordings into a single incident in the back office software. This eliminates distraction, the need to continuously record and having to remember to press record, and greatly improves incident review efficiency.

The new DVM-800 is a feature-rich in-car video system with 5-year Advance Exchange Warranty for only $3995. With the complete system starting at under $3500, the DVM-800 is a minimum of $1,500 less than comparable video systems and can be discounted by trading in your existing in-car video system. If you ever want to upgrade to a new model in the future, you can also opt for Digital Ally to buy the system back using the customer loyalty credit "guaranteed buyback program."
The DVM-800 features up to 8 cameras including an optional, automatic-display back-up camera; enhanced 720-pixel resolution while reducing storage needs with customizable camera-specific automatic triggers and quality settings; secure, redundant continuous loop and/or individual incident recording; automatic and pre-event recording; GPS with interactive back-office mapping; more intelligent G-force sensor; detailed metadata; mark button to tag important events or audio; integrated monitor that is hidden when not in use; wireless system configuration and transfer capabilities; 64GB vibration / environment-proof solid state memory; low power use and internal battery backup; Advance Exchange Warranty, which reduces downtime by providing a replacement system if warranty repair is ever needed; and more.
About Digital Ally, Inc.
Digital Ally provides a complete line of vehicle video systems integrated into a rear-view mirror, utilizing compact monitor controllers, or laptops/MDCs; compact video systems that may be worn or mounted; a digital video flashlight; and LIDAR handheld speed enforcement systems.