PRESS RELEASE
ETGI Offers Chance to Win a Direct-Link Crisis Throw Phone System Up to a $12,500.00 Value
---
At any given moment, a hostage, barricade, standoff or Crisis Situation can occur that puts the lives of responding officers and civilians at risk.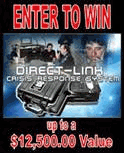 For over 15 years, Enforcement Technology Group, Inc. (ETGI) has remained dedicated to providing Hostage/Crisis Negotiation and Tactical Teams with best equipment to help ensure a safe and successful outcome.
As a show of our continued support and appreciation to those officers who respond to some of the most dangerous situations imaginable, ETGI is pleased to offer an opportunity for an active law enforcement, military, or correctional officer to win a Direct-Link Brand Crisis Response Throw Phone System for their agency.
The randomly selected winner of the "Direct-Link Crisis Response Throw Phone System Giveaway," may choose between a brand new Direct-Link LifeLine ™ ($5,000.00 Value) or a remanufactured/rewarranted Direct-Link 800 Series (Model# 850) Crisis Response System ($12,500.00 Value).
To register online for your chance to win, visit: http://www.etgi.us/DLgivaway.cfm.