Alliance for Quality: Headset Specialist Imtradex and INVISIO Start Cooperation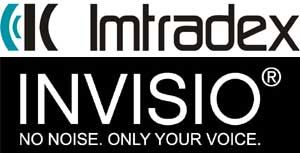 Dreieich, Germany - German Imtradex Hör-/Sprechsysteme GmbH and Danish INVISIO Communications A/S, two of Europe's leading headset manufactures, are now working together.
As part of the cooperation agreement, Imtradex will include INVISIO´s wide range of ear-microphones, which are based on the patented Bone Conduction technology, to their product range. It is an in-ear-headset technology that addresses the most demanding users and allows smooth communication in extremely noisy environments. At the same time, INVISIO benefits from the knowhow of Imtradex in the area of technical adaptation to radios used in Germany.
"With this collaboration our goal is to secure a larger presence across Germany with INVISIO's innovative technology, which fits extremely well in to our product portfolio" said Ralf Kudernak, Managing Director of Imtradex Hör-/Sprechsysteme GmbH. Here he refers to the variety of significant references INVISIO already has in this country within military and police special forces. "That is what we are going to follow up on, and also offer the products to the general military and police, as well as to the industry. It is a viable alternative to conventional headsets," said Kudernak.
Under the distribution agreement INVISIO benefits of the strong presence of Imtradex on the German market. With this and the proven expertise in the field of hearing and speaking systems Imtradex, founded in 1996 with headquarters in Dreieich, offers an excellent opportunity to get a wider audience for the INVISIO headsets in Germany. Imtradex will provide a first insight into INVISIO's portfolio at the international police fair GPEC, on the 11th to 13th of September 2012 in Leipzig, Germany. For further information visit www.imtradex.com or www.invisio.com.