Celebrate National Correctional Officers and Employees Week with Securus Technologies
Join Securus Technologies in celebrating National Correctional Officers Week, this May 5 - 11.
DALLAS — On May 5, 1984, President Ronald Reagan signed Proclamation 5187 creating National Correctional Officers Week. Since then, each full first week in May we recognize and honor the work of correctional officers and corrections personnel nationwide.
Historically, correctional officers have been viewed as 'guards,' occupying isolated and misunderstood positions in prisons and jails. In recent years, the duties of these officers have become increasingly complex and demanding. They are called upon to fill, simultaneously, custodial, supervisory and counseling roles. The professionalism, dedication and courage exhibited by these officers throughout the performance of these demanding and often conflicting roles deserve our utmost respect. The important work of correctional officers often does not receive the recognition from the public it deserves. It is appropriate that we honor the many contributions and accomplishments of these men and women who are a vital component of the field of corrections.
– President Ronald Reagan, National Correctional Officers Week Proclamation 5187, May 5, 1984
National Correctional Officers Week recognizes those individuals who put themselves in harm's way to protect the public. Those working in corrections not only keep our communities safe, but at the same time work to help offenders change their behavior and perspectives to become better human beings.
This week, May 5 - 11, join Securus Technologies, a JPay Company, in honoring the corrections professionals and the importance of their mission.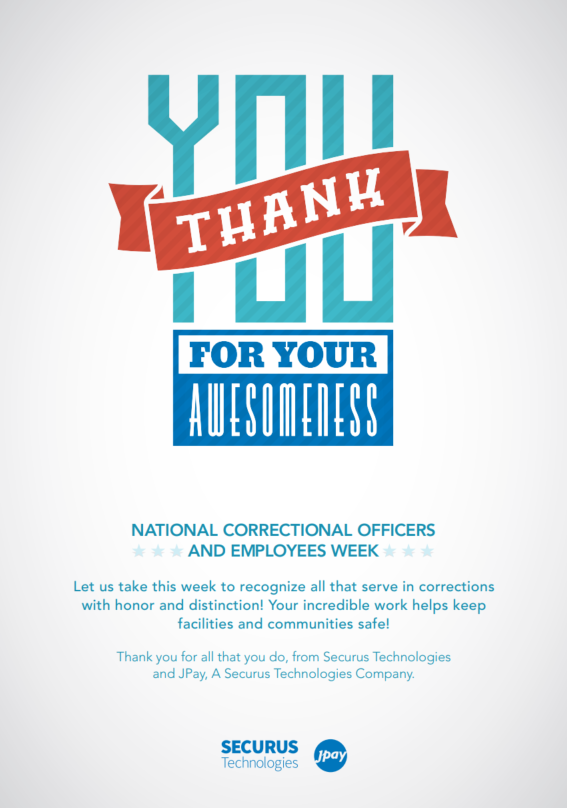 About Securus Technologies
Headquartered in Dallas, Texas, and serving more than 3,450 public safety, law enforcement and corrections agencies and over 1,200,000 inmates across North America, Securus Technologies is committed to serve and connect by providing emergency response, incident management, public information, investigation, biometric analysis, communication, information management, inmate self-service, and monitoring products and services in order to make our world a safer place to live. Securus Technologies focuses on connecting what matters®. To learn more about our full suite of civil and criminal justice technology solutions, please visit securustechnologies.com.