P25 CSSI demonstration by Catalyst/Harris
Catalyst Communications Technologies, Inc. and Harris Corporationdemonstrated the Project 25 (P25) Console Sub-System Interface (CSSI) at the 2013 International Wireless Communications Expo in Las Vegas. Catalyst's full-featured critical communications voice console, IP|ConsoleTM, operated seamlessly with Harris' VIDA® network via the standard P25 wireline interface. Subscriber radios from multiple vendors used the P25 Common Air Interface to communicate with the Harris trunked radio system and on to the Catalyst console. In a first for the Land Mobile Radio Industry, additional third party consoles from two other manufacturers successfully operated simultaneously while connected to the Harris CSSI interface along with the Catalyst console. Catalyst and Harris demonstrated advanced P25 features including Console Priority – the ability for a dispatcher to pre-empt subscriber radios.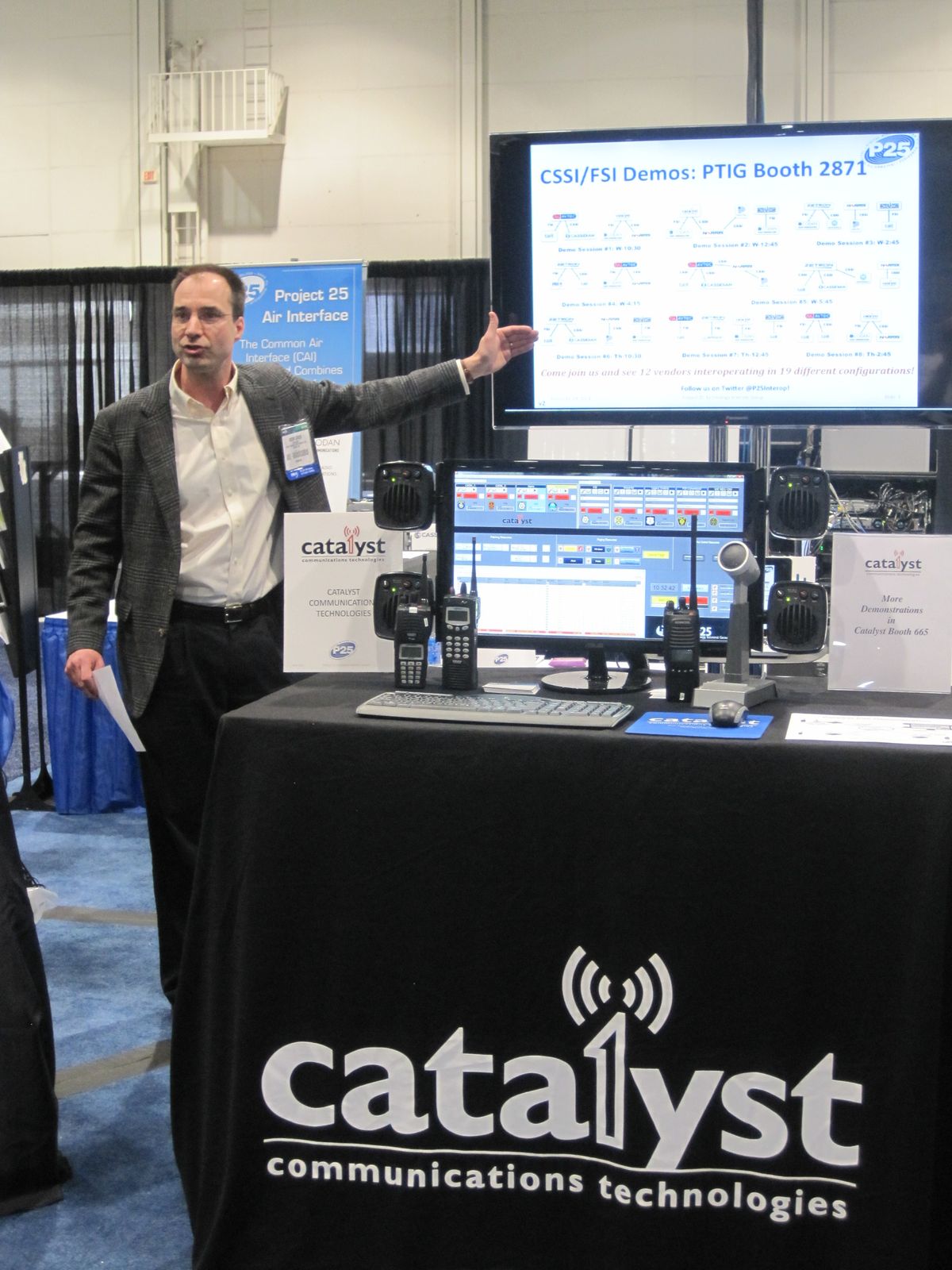 The Project 25 Technology Interest Group (PTIG) organized this bellwether event and twelve manufacturers participated. During the multiple console portions, the Catalyst console could hear transmissions from the other third-party consoles and those consoles could hear the Catalyst console on a common talk group. An Emergency message from a subscriber radio on that talk group immediately and simultaneously appeared on all three manufacturers' consoles. Other talk groups, only assigned to a single console, were heard only by that console. This demonstration showed that independent agencies could share a single P25 radio network, interoperate where needed, and yet maintain autonomy with other communications where required. Perhaps most importantly, it confirms that an agency's selection of radio system equipment can be completely independent of their selection of a dispatch console vendor.
The CSSI demonstration highlighted many advanced features for critical communications. Subscriber units and the Catalyst console interacted on three simultaneous group calls with the audio routed to any of four speakers on the console. Unit ID as well as alias identified the field radios on the console during both normal and Emergency group calls. The dispatcher was able to pre-empt the audio from a transmitting subscriber radio through the CSSI wire-line interface. The companies showed that other subscriber radios hear first the dispatcher during the pre-emption and then, if the initial transmission is still active, the remaining real-time audio. In addition, the dispatcher was able to replay the Lost Audio that was pre-empted.
Catalyst President Robin Grier observed that, "The Harris team continues to demonstrate its commitment to work collaboratively with other manufacturers for the benefit of Public Safety, Federal agencies, and other critical communications customers. Catalyst is pleased to serve the evolving needs of these organizations."
About Catalyst Communications Technologies, Inc.
Catalyst markets Radio Control over IP technology for the Land Mobile Radio Industry and is a force for change in the effort to bring Internet-derived technologies into push-to-talk voice applications. Catalyst focuses on products that leverage standard Windows-based computers to reduce cost and increase the efficiency of network operators and end users. Catalyst's extensive product line significantly enhances communications systems by seamlessly bridging wireless and wireline communications networks for dispatch and network-based interoperability.
IP|ConsoleÔ is a trademark of Catalyst Communications Technologies, Inc. VIDA® is a trademark of Harris Corporation.
Contact Catalyst at info@catcomtec.com or (434) 582-6146 for additional information.
For editorial information, please contact:
John Kramer
Catalyst Communications Technologies, Inc.
(434) 582-6163 or jkramer@catcomtec.com