Why off-the-shelf cleaning products aren't up to the task in corrections
Wood, metal and hard plastic brooms and mops can easily be made into weapons – here's why you need to look for tools made specifically for the correctional environment
---
Sponsored by Briarwood Products
By Corrections1 BrandFocus Staff
Safety is key for any correctional facility, and ordinary supplies for everyday things like cleaning can be surprisingly risky. It's easy to create shanks or makeshift clubs from hard plastic or wooden handles – but you can't skimp on sweeping, mopping and other basic janitorial tasks that are necessary for the health and well-being of inmates and staff.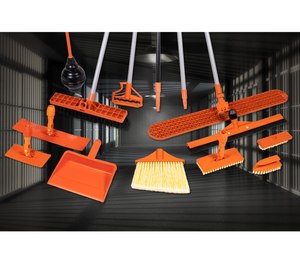 Briarwood Products, a maker of commercial cleaning products since 1993, provides a line of tools designed specifically for use in correctional facilities. To better address the need for tools that are both safe and durable, the company developed its own special safety polymer about a decade ago. This flexible material cannot be sharpened into a weapon, but it's tough enough to stand up to rough use.
TOOLS THAT BEND BUT DON'T BREAK
Briarwood Products' shank-free and metal-free cleaning tools are made from a "safety orange" plastic that cannot be sharpened. This specialized material is strong and durable, yet soft and flexible to prevent inmates from fashioning weapons from it. It's also resistant to mold, mildew and bacteria growth.
Some people think this flexibility means the tools are not strong or durable enough, but seeing is believing, says Dayna Piersa, Briarwood's sales and marketing manager. A facility can request a free 13-piece sample kit, and she estimates that 9 out of 10 recipients go on to purchase the products once they realize that they are indeed durable but can't be sharpened or made into weapons.
"We don't require them to send it back," said Piersa, "because we want them to try and destroy the tools, try to do whatever they possibly can that an inmate may do."
PRODUCTS DEVELOPED WITH THE CUSTOMER IN MIND
Briarwood Products works with correctional facilities in its research and development process in order to fully understand potential uses and what their customers need in order to make safer cleaning tools. The company continues to increase and improve their product offerings based on customer feedback.
"We constantly are researching and trying to develop the safest products, and with each year, we come out with something different," said Piersa. "We evolve our products by getting feedback from our customers, sending them product, having them abuse it and work with it and try to figure out what we can do better with something. And once we get the feedback, we make adjustments and go from there."
Recognizing a gap in the safety cleaning tools available, the company has developed a new prison-safe shank-free toilet bowl brush (expected to be available by the end of 2020). Whereas regular toilet brushes are made of a hard plastic that can be chipped or sharpened, the Briarwood Products tool comprises a handle made of its flexible but strong polymer and a mini-mop of yarn, with no potentially hazardous bristles or metal.
CUFF BOX TOOLS ENABLE NO-CONTACT CLEANING
Cleanliness has always been an important issue in correctional facilities, but cleaning and sanitizing have taken on extra urgency with the COVID-19 pandemic. In addition to its standard-size cleaning tools, Briarwood Products offers a set of tools designed specifically to fit through cell door slots or cuff boxes for minimized contact.
"That way the inmate can clean their own cell and then pass them back and nobody's touching anybody," said Piersa, "and there's no opening of doors. It's a great solution to eliminate contact."
The specialized material used to craft Briarwood Products cleaning tools reduces the opportunity to convert a necessary item into a contraband weapon. Providing these tools will allow inmates to safely perform their cleaning tasks while keeping themselves and correctional officers safe from harm. One customer estimates that his facility's adoption of the prison-safe shank-free cleaning tools has reduced assaults by 40%, says Piersa.
"The tooling is strong, durable, and most of all safe to use for both correctional officers and inmates," she said. "Once our prison-safe, shank-free tools are tested and approved, facilities see the impact they have and make the change from ordinary supplies to our tooling."
Briarwood Products tools are available via Amazon for easy ordering.
For more information, visit Briarwood Products.
Read Next: Why safety is key when ordering cleaning supplies for corrections

Request information from Briarwood Products, LLC
Thank You!