Leader of feared Mexican cartel gets 17 years in U.S. prison
Miguel Angel Caro Quintero smuggled more than 100 tons of marijuana into the U.S.
---
By P. Solomon Banda
Associated Press
DENVER — It started with a forgetful hotel guest - $42,000 left in a room in Boulder, Colo. It ended two decades later with the leader of a fearsome Mexican cartel sent to prison for 17 years.
The discovery in 1988 eventually led authorities to hundreds of pounds of marijuana and sparked an investigation of the leader of a drug ring that authorities say smuggled more than 100 tons of marijuana into the U.S. between 1985 and 1988.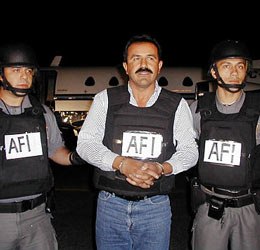 That case reached its climax Thursday with the sentencing of Miguel Angel Caro Quintero to 17 years in federal prison for racketeering in Colorado and conspiracy to distribute marijuana in Arizona.
The 46-year-old Caro Quintero's Sonora cartel was tied to the 1985 torture and killing of an undercover Drug Enforcement Administration agent, Enrique "Kiki" Camarena Salazar. Caro Quintero's brother, Rafael Caro Quintero, is in prison in Mexico for the slaying, but authorities never directly linked Miguel Angel to the crime.
A. James Kolar, then the sergeant in charge of the Boulder narcotics unit, said police were called to the hotel after a maid found the money.
"He apparently went off and left the money in the room," Kolar recalled after Thursday's sentencing. "We were checking it out, and he came back to get it."
Police didn't immediately arrest the man, but they followed him to a grocery store parking lot where they discovered an RV packed with nearly a half ton of marijuana. Police then questioned the suspect, who said he was working for the cartel.
Following that trail, the investigation led to several suspects in Colorado and in Arizona, Kolar said.
"We had no idea that Mr. Quintero was involved," said Kolar, now the police chief in Telluride, a ski resort town in southwestern Colorado. "It wasn't until we got indictments from federal agents that witnesses started providing information that led to Quintero."
Enrique Camarena Salazar was working for the DEA out of Guadalajara, Mexico, when he was kidnapped on Feb. 7, 1985, by five armed men who threw him into a car and sped away. He was tortured and beaten to death. The 37-year-old agent left behind a wife and three children.
Caro Quintero's brother was convicted in Camarena's slaying. After his brother's arrest, federal authorities say Caro Quintero took over the operation that smuggled thousands of tons of marijuana and cocaine into the U.S. in the 1980s.
Prosecutors said under Caro Quintero's direction, the cartel exported two to four tons of marijuana a month to Colorado between 1985 and 1988. It was distributed throughout the United States by aircraft and vehicle.
Caro Quintero was indicted in Colorado in 1990 on charges that included smuggling marijuana in half-ton amounts in 1987. Prosecutors say he also conspired with two other people to import thousands of pounds of marijuana into Arizona and was recorded on the phone trying to sell marijuana to an undercover drug agent.
"The thing about this case is it demonstrates that it's not a matter of whether we're going to get these guys, it's a matter of when," said Jeffrey Sweetin, Denver DEA special agent in charge.
Caro Quintero was arrested in December 2001 in Los Mochis, Mexico, and served a drug sentence in that country. He was extradited to the U.S. last February.
Camarena's slaying was commemorated each year by students in Calexico, Calif., where he attended high school. Students wore red ribbons in the agent's memory. The remembrance expanded and was made national by Congress in 1988 as Red Ribbon Week, during which drug and violence prevention campaigns are held in schools each October.
Camarena was a native of Mexicali, Mexico. He served in the U.S. Marine Corps and the Calexico and El Centro, Calif., police departments before joining the DEA.