Leatherman's new steel tool bracelet is a work of art
Made of corrosion-resistant stainless steel, the bracelet offers 25 features
---
By C1 Staff
Leatherman Tool Group Inc. is slated to release a new wearable tool bracelet this summer, called the Leatherman Tread.
The bracelet is made of high-strength, corrosion-resistant 17-4 stainless steel links that include two to three functional tools. Altogether the bracelet has 25 usable features, such as box wrenches and screwdrivers.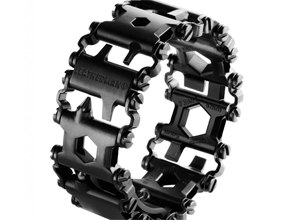 Each link is individually metal injection molded for strength and intensity, and the overall bracelet is entirely customizable. Using slotted fasteners, users can rearrange links, add new ones, or adjust for wrist size.
The clasp also doubles as a bottle opener and #3 square drive.
Other tools include a cutting hook, hex drives, screwdrivers, box wrenches and a carbide glass breaker.
One version of the bracelet, the Leatherman Tread QM1, will feature a Leatherman-designed and Swiss-made timepiece with precision quartz movement. A shock-resistant sapphire crystal ensures scratch resistance for heavy-duty wear and a curved front limits reflection and increases outdoor visibility.
For more information, check out Leatherman's website.