4 Gun Pistol Pack transports your firearms in style
The 4 Gun Pistol Pack helps you transport your firearms to the car, from the car to the range, and then back home again – all the while keeping your firearms safe and secure
---
Gear Tips
Make sure all firearms inside bag are clear and safe; do not transport any firearms loaded!
Write your point of contact information on bag and use an inventory card for quick accountability
Use a colored bag identifier to help separate your black bag from other black bags if transporting or shipping
Add a first aid kit to your 4-Gun Pistol Pack – small band aids, sterile strips, solution disinfectant, blood clot, tourniquet
For transportation and storage of firearms when using a barrel blocker have slide forward for automatic firearms – and for revolvers have trigger locks
On semi-automatic firearms place all extraction ports up and use cylinder locks for revolvers when all possible
When using mesh pockets place your items in small plastic bags to add extra protection to lining from contact with sharp objects
Avoid laying other objects on top of the 4-Gun Pistol Pack
For cleaning use a soft bristle brush and non–oil base soap
Do not leave unsupervised
​Almost immediately after you walk about of a store after buying your new piece of gear you start asking yourself, "What exactly did I spend my money on?" I am proud to help you get the right answers to your questions! This is the purpose of "Ask Dave" it's about what do you really have in your possession.
In my line of work, I travel almost weekly and I have an assortment of firearms, ammunition and accessories to transport through airports, car rentals, a variety of shipping methods, and range conditions. I must have my firearms and gear organized and accounted for not to mention close by when needed.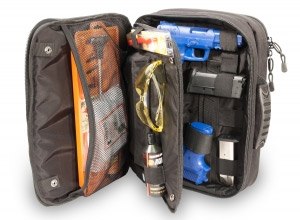 Let's take a look at the "4 Gun Pistol Pack" developed by Elite Survival Systems. Let's discuss purpose, function, and features.
Purpose: The purpose of this 4-Gun Pistol Pack is to help the responsible firearm owner in the carrying, preserving and transporting of their firearms from their home to their car, from their car to the range and back home. It doesn't matter if you are using this to store your own firearms safely inside your home and securing them in a gun safe or if you are traveling and needing to take your magazines, ammunitions and other firearm accessories with you for each firearm. This 4-Pack does all of that and so much more.
Functions & Features: This discreet, low profile, executive looking case was designed with two identical compartments, one on each side, enabling them to hold two handguns with fully-adjustable straps and loops for magazines.
Each compartment also has a separate accessory compartment with a padded divider inside to enhance the protection of your firearms. The accessory compartments have elastic loops that reduce noise stop items from grinding and damaging themselves with Velcro pouches for magazines, ammo and accessories.
Inside these areas is a mesh pouch for cleaning accessories, supplies and other range paperwork. The case has a molded rubber comfort handle, heavy-duty zippers, and hardware equipped with para-cord tabs to assist in opening and closing.
The reinforced pull tabs on each zipper also serve as a soft loop to secure with a lock if needed. This case holds as much gear as other range bags its size, reducing and packing space enhancing access to your gear.