PRESS RELEASE
Next Generation Gotcha Handcuffs & Leg Restraints
---
use if there is a picture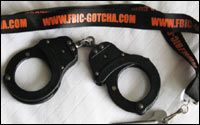 end picture
Jackson, Michigan — Law enforcement said they needed a better restraint. So Gotcha designed a totally new handcuff. This patented design addresses all the deficiencies of today's handcuffs and they are 100% made in the USA. Gotcha's are lighter, stronger, more secure, and most importantly, easier to use than any other restraint.
Features of the new Gotcha Handcuffs:
• First new locking mechanism since 1862
• Handcuff swing arm stronger than conventional handcuffs
• Cannot be picked or jimmied by unconventional instruments
• Key hole located on both sides for enhanced officer safety
• Molded surfaces reduce risk of abrasions
• New patented gear operating and cam locking mechanism
• Ergonomic designed to reduce common injuries to wrist
• Military grade composite material
• Extended base for increased officer control.
Gotcha offers professional testing and evaluations, institutional discounts, and free handcuff transition training with agency purchase. Please contact David Parham at sales@fbic-gotcha.com for further information.