How to build a layered contraband detection strategy and why it matters (eBook)
Learn why a layered screening strategy is so important and how it can help your facility plug holes
---
Sponsored by Smiths Detection
By Rachel Zoch, Corrections1 BrandFocus Staff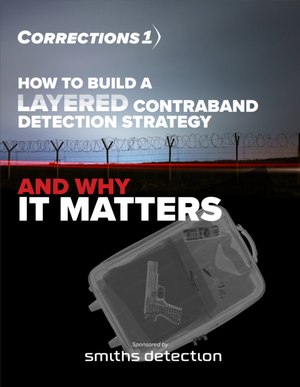 Correctional facilities must maintain a carefully controlled environment for the safety and well-being of inmates and staff. This includes stopping the flow of smuggled contraband of any kind – whether drugs, weapons, cellphones or other prohibited items.
In this eBook, you'll learn why a layered screening strategy is so important and how X-ray and trace detection can help your facility plug holes, as well as practical tips for screening people and parcels.
Download your copy to learn:
How to screen deliveries, food and other items
Why screening the mail is so important
How to maintain positive flow while catching more contraband
And more!
Download your copy to learn how to build a layered contraband detection strategy