PRESS RELEASE
TEAM GLOCK's Dave Sevigny wins at the USPSA Area 8 Championship
---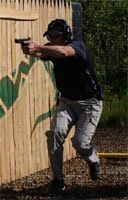 On Memorial Day weekend, Team GLOCK Shooting Squad captain Dave Sevigny won the 2008 USPSA Area 8 championship hosted by East Huntingdon Sportsmen's Association in Alverton, Pennsylvania. More than 300 competitors from across the United States competed in the annual tournament which featured 11 stages of fire and required 253 rounds total.
Jessie Abbate finished fourth Lady and High "C" class in the Open division with an S&J Custom GLOCK 17 shooting minor power factor 9mm ammunition.
Sevigny used a GLOCK 34 in 9 x 19 to win his fifth Area 8 championship in five attempts. He once again dominated the Production division by winning six out of eleven stages.
The 2008 Production field had 72 entries with six Grandmaster class competitors vying for the title, which was more than any other division at the tournament. "The stage design and presentation at Area 8 was National championship quality and so was the competition," commented Sevigny.
For more information on the USPSA Area 8 competition, visit www.uspsa8.org
Sevigny will compete at the Area 7 Championship in Harvard, Massachusetts from June 6 - 8. The entire TEAM GLOCK Shooting Squad which also includes Jessie Abbate and Randi Rogers will next compete at the Winchester World Challenge and American Handgunner World Shoot - Off speed steel competition held in Montrose, Colorado from June 24 -29.

Request more info from Glock
Thank You!