Deputies use shock vests on Fla. murder suspects to block potential escape
Deputies outfitted murder suspects Brian Javon Brown and Christian Eberhardt with special vests that COs can use to hit their bodies with electric current
---
By Daphne Duret
The Palm Beach Post
PALM BEACH, Fla. — Brian Javon Brown and Christian Eberhardt, two men accused of killing a cab driver in suburban Lake Worth four years ago, sat through the first day of their first degree murder trial Wednesday dressed in slacks and collared shirts topped with long-sleeved, V-neck sweaters.
It was what they had on underneath, however, that out of the jury's presence exposed how Palm Beach County Sheriff's deputies are handling potential escape plots just a month after a Broward County murder suspect made national headlines when he bolted from a Fort Lauderdale courtroom and remained on the run for nearly a week.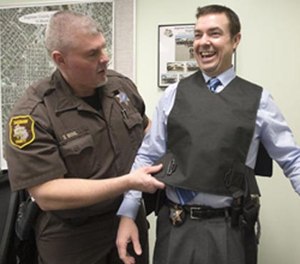 Brown's attorney, Christopher Haddad, told Circuit Judge Glenn Kelley that deputies have outfitted both his client and Eberhardt with special vests that jailers can use to hit their bodies with electric current if the prisoners try to escape or have an outburst in court.
"He's been advised that if he does something improper, he could be zapped with quite a bit of voltage," Haddad said.
Neither prosecutors, Haddad nor Eberhardt's attorney, Robert Gershman, revealed specifics about how the vests operate or who controlled them. But extra deputies have been present from the start of jury selection in the case Monday, including two who are seated in the courtroom gallery in plainclothes.
Chief Assistant State Attorney Adrienne Ellis and fellow prosecutor Takisha Richardson told the judge on Wednesday that they didn't know details about the security measures but had called deputies after the lead detective in the case surrounding the May 2012 murder of Masden Paul informed him that he'd heard a disturbing exchange between one of the men and an associate on a recorded jail call.
Haddad said he believed the defendant on the call was Eberhardt, and argued that although neither man should have to wear a vest, it was especially unfair to his client since he wasn't the one on the call.
Prosecutors didn't say in open court or afterward which defendant was on the call, but said the person on the other end of the call asked questions that hinted at an escape plan.
"This person was inquiring about the layout of the courtroom, when does the bailiff get there, how close are the deputies to you, are they always there — questions like that," Ellis told the judge, adding: "I notified PBSO, and they took the appropriate action."
Both Haddad and Gershman asked for more information about the call, and Gershman asked the judge to require prosecutors or jail officials to provide him with the audio recording of the call within a day. Kelley denied the request and rejected a request for a mistrial.
"It's their job to secure the courtroom based on the intelligence they've received," the judge said of deputies.
The security measures come a month after Broward County inmate Dayonte Resiles was captured hiding out in a West Palm Beach motel room at the end of five-day manhunt sparked by his escape from the Broward courthouse.
Resiles is now back in custody and awaiting trial in the 2014 death of Jill Halliburton Su.
Eberhardt, 24, and Brown, 25, are accused of trying to rob Paul after pretending they needed a cab ride to lure him to 10920 50th St., just off State Road 7 in suburban Lake Worth.
Prosecutors say it was Eberhardt who shot Paul, 48, in the head after the robbery went awry. The Yellow Cab driver held on for three days before he died.
The trial is expected to last through next week. If convicted, both men face life in prison.

Request product info from top Corrections Less Lethal companies
Thank You!