The one less lethal weapons class you must take
---
Ongoing education for law enforcement officers is often an uneven adventure. Sadly, once we complete our academies' core curriculums, training often slips to "catch as catch can."
State, local, and court mandates can "over-formulize" our training by dictating specific classes that must be taken on an ongoing basis without leaving much room for expansion.
Budget constraints further limit our opportunities. It's a cruel irony that the first thing to be cut in lean times is training and the first thing that law enforcement agencies are so often sued over is failure to train. Nonetheless, it is a fact with which we continue to contend.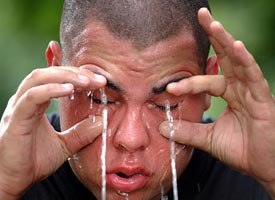 Despite the restraints placed on departments by city managers or others, many dedicated individuals still attend classes and seminars on their own time and their own dime. It's a great idea. However, the problem lies in knowing whether a class will be well-enough suited to your current needs to be worth your time and money.
I'm writing this article to say that, if you are a less lethal weapon's instructor, there is one class that MUST be added to your resume. It is the less lethal class taught by the Center for Community and Public Safety at Penn State University.
In the past, the only way to take an outstanding course like this one would be to pack the car and drive to Uniontown, Pennsylvania. Luckily, this is the 21st century so a computer and an internet connection will do just fine.
This class provides a breadth and depth of scholarship that is simply not available when attending a class that is only weapons system specific. In a series of articles I wrote on less lethal weapons last year, I referred to material from this course repeatedly.
Course Development
According to Ted A. Mellors, Director of Penn State's Center for Community and Public Safety the "Non-Lethal Weapons: Policies, Practices, and Technologies Certificate Program is a Web-based/DVD-based, university-level, non-credit certificate program developed for the U.S. Department of Defense under a contract from the U.S. Marine Corps and the Joint Non-Lethal Weapons Directorate based in Quantico, Va."
Law enforcement personnel were also beneficiaries of this Marine Corps contract. While the non-lethal course was being developed for military personnel, a less lethal class was also being created for us1. The terminology used in both courses is the same, but it is obvious that the mission of the armed forces is quite different than ours. The integration of non-lethal tools in military missions requires a level of sophistication and finesse well beyond the scope of that required by the average street cop, officer or deputy walking a cell block.
In a recent interview, Director Mellors told me that he and the two instructors who developed the class curriculum — retired Pennsylvania Police Lieutenant Kirk Hessler and retired Army CID Special Agent Dave Derrico — traveled more than 50,000 miles over fifteen months, recording 250 hours of video, including 50 hours of video interviewss, and taking more than 2,500 photographs, do complete their research. In total, they put over 5,000 hours into developing the curriculum.
During this process, the Center for Community and Public Safety team also consulted some of the nation's leading less lethal weapons experts. Many of whom made significant contributions to the material. Among these are John Alexander, Sid Heal, Steve Ijames, and Dr. John Kenny.
Director Mellors also said that less lethal manufacturers were of assistance and that the course continues to be updated. He singled out Defense Technologies, Combined Tactical Systems and TASER International for their special help.
The course itself consists of approximately 62 hours of instruction broken down into seven modules:
• Introduction and Theory
• Kinetics
• Riot Control Agents and Related Technologies
• Maritime and Land Vehicle Stoppers
• Advanced and Emerging Technologies
• Non-Lethal Applications and Public Order
• Integration of Non-Lethal Weapons and Decision-Making
Once a student is enrolled in the class they have six months to complete it, allowing you to work at your own pace. The average completion time is three months, but it can be done in less than one.
You will be surprised to discover some of the tools that we use every day that, by definition, are less lethal weapons and, through the "Advanced and Emerging Technologies" module, the new tools being developed on the technological horizon.
One of the strongest aspects of these non-lethal and less lethal courses, is that they are continuously being modified in respect to ongoing developments in less lethal weapons' technology, improvements and modifications to existing platforms and the experiences of military and law enforcement personnel in the field.
Version 5.0 of the non-lethal class and version 2.0 of the less lethal class are due out soon.
The academic community has also recognized the Penn State's Center for Community Public Safety non-lethal weapons program accomplishments. Last October the program received a well deserved "Award of Excellence" from the University Continuing Education Association at its Mid-Atlantic Region Awards of Excellence ceremony in Wilmington, Delaware.
Since the class first went on-line in 2006 more than 2,500 military personnel and 500 law enforcement officers have taken it from 47 states and on four continents. However, this is still only a small fraction of the less lethal weapons instructors teaching deputies and officers in the field across North America right now.
I highly recommend we work to change this. Without the Center for Community Public Safety's course under their belt2, no less lethal weapons instructor's resume is complete.
---
Footnotes
1 In 1996, a Department of Defense directive determined that the term non-lethal would be used by the military. Law enforcement in the United States has no such governing body to make such a pronouncement. Less-lethal, less-than-lethal and many other terms are used by agencies throughout the country. For simplicity in this article whenever I refer the term "non-lethal" it will be a reference to the military.
2To register for the course go to: http://offering.psu.edu/less-lethal. Find course name ADM J 5147. The cost is $299.00 and 6.2 units of continuing education credits are awarded to those who need them.  For information contact the Center for Community and Public Safety:
Phone: 724-430-4213
Fax: 724-430-4216
E-mail: fayetteccps@psu.edu
Web: http://www.lesslethaleaponscourse.com.

Request product info from top Corrections Less Lethal companies
Thank You!