Illegal drugs among most significant mail threats, new report says
A new report provides some insight into a pervasive yet often overlooked security threat
---
By Corrections1 Staff
Of all the methods used to smuggle illicit substances into correctional facilities, it's no secret that inmate mail poses an especial risk to officers. In a federal prison just this week, for example, a CO was briefly hospitalized following a "violent reaction" to a letter that had been soaked in methamphetamine. 
And now a new report provides some insight into just how widespread mail-based threats are nationwide.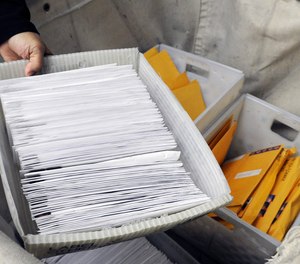 The 2021 Annual Mail Threat Report from security imaging company RaySecur seeks to close the knowledge gap surrounding this often overlooked safety issue.
"The lack of comprehensive data is one of the key reasons mail threats remain one of the largest gaps in physical security," said Alex Sappok, Ph.D., CEO, RaySecur. "Our report compiles government data and mass media reporting in one place so that security leaders can proactively plan and implement measures to address these vulnerabilities. It's core to our mission of keeping our customers safe."
Of the 250+ dangerous mail incidents analyzed for the report:
44% involved illegal drugs.
56% were delivered via letters (as opposed to parcels at 33% and larger packages at 11%).
Correctional facility officials were the primary responders in 11% of incidents.
There is a noted increase in the number of illicit drugs entering jails and prisons via legal mail.
Download the full report to learn more.
Request product info from top Corrections Mail Processing companies
Thank You!