Eye scanner for Ohio jail could save $70K a year
The PassPoint.net System will minimize the use of urine tests, reduce staff time and could eliminate the need to hire another correctional officer
---
By C1 Staff
CELINA, Ohio – The Mercer County Sheriff's Department is currently considering purchasing an eye scanner that can detect drug abuse, thus saving the sheriff's department a potential $70,000 a year.
The Daily Standard reports that the scanner, called the PassPoint.net System, would minimize the use of urine tests, reduce staff time and could possibly also eliminate the need to hire another correctional officer.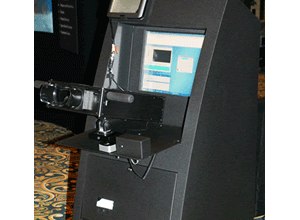 County commissioners approved a one-year lease at $1,900 a month for the scanner on Tuesday.
The lease will be paid with funds from a 0.5 percent sales tax collected for the jail, and the local Tri-County Alcohol, Drug Addiction and Mental Health Services agency will pay an initial $5,000.
County Sheriff Jeff Grey said the department paid $43,000 for urine test kits last year. Each kit must be administered by an officer.
The PassPoint.net System is a self-test procedure that requires a jail employee to be present only for the initial set-up and scan.
"And then we can run as many tests as we want on the scanner and it only costs us that monthly fee," Grey said. Updates and maintenance are included in the lease.
The machine will mainly be used for people with substance abuse issues who participate in the county's drug court program. Each person must undergo periodic urine tests and achieve clean results to remain in the program.
The machine uses biometrics – a fingerprint – to confirm identification before the test is conducted.
The equipment scans both eyes in about 17 seconds and prints out a receipt stating a positive or negative result, which is also immediately emailed to the court probation officer. A positive result will prompt and immediate urine test to further confirm a "dirty" reading.
If the sheriff's department isn't satisfied with the device, they can opt out of the lease after the first year.