Minn. county sheriff now using eye scanners to ID inmates
All of the 11,000 or so inmates booked into the jail each year will have their irises photographed, and the images will be stored for future use
---
By Shannon Prather
Star Tribune
ANOKA COUNTY, Minn. — The Anoka County jail has rolled out an eye-scanning identification system for inmates, an apparent first in Minnesota.
All of the 11,000 or so inmates booked into the jail each year will have their irises photographed, and the images will be stored for future use.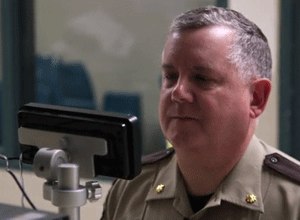 "It's a quicker and extremely accurate version of a fingerprint check," said Anoka County jail Cmdr. Dave Pacholl.
A person's irises are more distinctive than fingerprints, and capturing high-resolution photographs of them and getting back a computer identification takes just seconds, Pacholl said. A fingerprint ID can take five to 15 minutes to carry out, he said.
The sheriff saves data on all of the scanned eyes, which go into a private and highly secure national database that now stores almost 1 million scans. The department also still fingerprints inmates for inclusion in that database, which the FBI established in 1999.
Pacholl said there has been no legal challenge to the process since it started Aug. 25. "We made sure the BCA knew we were looking at it. No one seemed concerned," he said.
An attorney for the American Civil Liberties Union of Minnesota said the organization has not taken a position on eye-scanning technology.
Privacy concerns may be lessened by the fact that iris data are used only for identification, unlike fingerprint data, which are used for identification and as evidence.
"You can't leave behind latent iris images at a crime scene. It will never totally replace fingerprints," said Bruce Taylor, president and CEO of Police Central Inc., a Georgia-based jail management system that uses iris scanning.
While eye scanning has been around for more than decade, it's still not in widespread use by law enforcement.
The Anoka County Sheriff's Office is one of only about 100 U.S. police departments, sheriffs and prison systems using the technology patented by BI2 Technologies, a private company based in Plymouth, Mass., that specializes in biometric intelligence and identification technology. Other users include the Maine Department of Corrections and the jail systems in Washington, D.C., and Atlanta, Taylor said.
"They are the only company endorsed by the National Sheriffs' Association. They have very strong support from the national law enforcement community," said Taylor, whose company partners with BI2 Technologies.
For other sheriff's departments, fingerprint identification still seems sufficient. "We are not considering using that technology," Hennepin County Sheriff's spokeswoman Rebecca Gilbuena said in an e-mail.
Verifying identities
The eye-scanning technology was added to the Anoka County sheriff's jail-management software during an upgrade. Adding two eye-scanning stations cost $23,000.
The jail is now using both iris and fingerprint matching. Inmates have their eyes scanned when they're booked into the jail. They also are scanned to verify their identities when moved to and from court and again when they're released.
The process can help prevent errors, including releasing the wrong person from jail.
"It's not uncommon to have two or three people with the same name," Pacholl said. With the new technology, "we know for sure who you are. It protects the public.
"We don't want to release the wrong person," he said. "It happens more than any jail would like to admit."
The process also can prevent inmates from giving false names.
"It's really a form of identity theft," Pacholl said. "I've seen other people's lives ruined by someone using someone else's name."
It also reduces time spent on data entry and potential errors associated with that.
Over the past 12 months, 76 percent of all inmates booked into the jail have been there before, so eye scans save substantial amounts of data entry, Pacholl said.
The process poses no risk to the eyes, Taylor said.
"It's a video camera scanner that uses UV light," he said. "Ophthalmologists have confirmed it's safe."
Taylor said he knows privacy advocates have criticized similar technology, including facial recognition programs.
"Your face is not a secret," he said. "You are walking around with it exposed to the world."

Request product info from top Corrections Biometrics Identification companies
Thank You!