Getac announces new T800 rugged tablet
New tablet is designed for harsh environments
---
By C1 Staff
Getac has unveiled the T800 rugged tablet, a 2.1 pound tablet developed for harsh environments.
Running on Windows 8.1 Professional, the tablet offers a quad-core Intel N3530 2.16 Ghz processor and can endure drops from 6 feet, as well as shocks, spills, vibration, dust and more. It has been certified to MIL-STD 910G and IP65.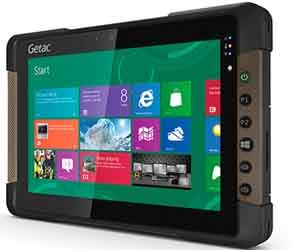 The tablet can be configured with 4G LTE cellular data with a tunable 8-band antenna capable of supporting a wide array of LTE bands. Every tablet includes the latest 802.11ac WiFi for data transfer. A dedicated GPS allows for location positioning.
In vehicles, 4G LTE configured T800s have triple pass-through antenna ports letting users tap into high-gain GPS, WWAN and WLAN roof-mounted antennas simultaneously.
The T800 TGetac's LumiBond technology allows the display to be more readable both indoors and out, the company said.
The T800 comes with Getac's SnapBack add-ons, which allows for the attachment of an extended battery or SmartCard reader, RFID or Magnetic Strip reader functions. The battery can last up to 8 hours on a single charge, the company said.