Affordable Front Line & Duty Gear from RedMan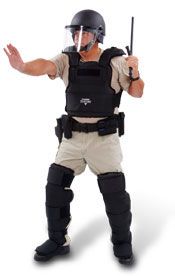 DRS 90 Now Available from RedMan Training Gear
Designed specifically for law enforcement mobile field force applications and crowd control, the DRS-90 is the most economical option in front-line duty and training gear. The DRS 90 provides the best quality and most modular design on the market, giving officers top-of-the-line protection at a competitive price. The biggest difference with the introduction of the DRS-90 is that it is not flame resistant, like the DRS-180 and DRS-360.
The DRS-90 provides coverage for the chest, knees, legs and top of foot. The Chest Guard doesn't interfere with duty belts, can be worn with ballistic or stab resistant vests underneath, and other duty gear like a load bearing vest and thigh holster.
A new generation of Duty Gear, the DRS-90 provides maximum blunt trauma protection with the comfort and mobility officers need to safely and successfully complete their mission. It's extremely tough and durable with triple layer construction featuring an outer covering of durable Codura fabric that resists abrasion, inner layers of closed-cell foam with trauma plates sandwiched between the layers for added protection, and closed-cell fabric impervious to blood-borne and other pathogens, which is easy to clean and disinfect after each use. Contoured design and adjustable straps make it flexible and easy to put on. Visit www.redmangear.com/duty for more information or call 800-459-2598.