RedMan Introduces D2 Headgear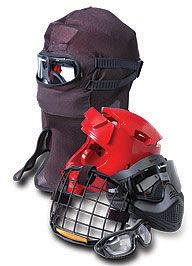 RedMan Training Gear Introduces the D2 System
RedMan Training Gear has introduced the D2 System. With various configuration options, it's designed to offer extreme training versatility. D2 responds to feedback from instructors and students providing more ventilation holes for cooler wear and better hearing. The open face design also offers better peripheral vision and a more comfortable fit. With the D2 System, trainers have one set of components that can be mixed and matched to achieve the right level of protection for the particular training scenario.
Three Configurations:
1) D2 System: Complete
Includes D2 Head, D2 Cage, D2 Hood, D2 Mask and Safety Glasses.
These components combine to create Weapons Defense or Defensive Tactics configurations. The D2 Head, D2 Cage and Safety Glasses can be used for defensive tactics training, replacing the Traditional RedMan XP Headgear. D2 can be added to the DRS Gear for a complete training suit. To switch to Weapons Defense training, simply remove the D2 Cage and add the D2 Mask and D2 Hood. The system is ideal for departments on limited budgets, allowing DT and Firearms instructors to combine training budgets to get the gear they need to train properly.
2) D2 System: Weapons Defense
Includes D2 Head, D2 Hood, D2 Mask and Safety Glasses.
Designed for cooler wear, better visibility and improved hearing, the D2 Weapons Defense version replaces the current WDS Headgear configuration. All components must be worn together for weapons defense training. The advancements in the D2 Weapons Defense configuration gives trainers and instructors better protection with much more comfort for long training sessions. Students will train with better accuracy due to better peripheral vision and will be able to better hear instruction.
3) D2 System: Defensive Tactics
Includes D2 Head, D2 Cage, and Safety Glasses.
This version can be worn in place of the Traditional Head in the XP Instructor or XP Student suit. The D2 Head is more contoured for better fit and comfort, featuring the patented impact-dispersing trauma plates for more protection from accidental strikes. Add the WDS Throat Guard with the WDS Instructor suit configuration. If incorporating Inert OC training, students add the RedMan Attachable Face Shield to the D2 Cage.
For more information about the D2 System, call RedMan Training Gear at 800-865-7840 or visit www.redmangear.com