PRESS RELEASE
IES Interactive Training Growth leads to New Building Expansion
---
Arotech Training and Simulation Division's IES Interactive Training subsidiary, with its tremendous sales and revenue growth in 2006 and 2007, is a significant reason for the expansion of Arotech's facilities at its Ann Arbor, Michigan headquarters. This expansion will provide IES, long recognized as a leading provider of high-quality force- options training simulators to law enforcement and public safety agencies around the world, more space for its growing business and expanding product lines.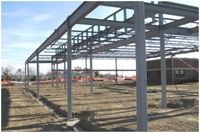 "In 2007, IES booked our second highest gross sales volume in our thirteen year history – over a twenty percent increase in sales  compared to 2005 for our MILO HD simulation training systems product line" noted Robert McCue, IES's Director of Business Development.   "As demand for our products and services keeps growing, we find ourselves in a position to require expanded production and development facilities for our simulation training business.  The additional space will allow us to increase the scope of our simulation product offerings for a wider array of  new customers, and to continue providing our existing customers with the high-quality systems and services that IES is known for."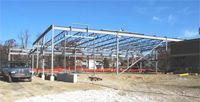 The facilities expansion will involve constructing 6,000 additional square feet incorporated into the existing 11,000 square foot building thatIESoccupies in the Arotech Training and Simulation Division campus in Ann Arbor, Michigan.  The current building expansion is scheduled forcompletion in May of 2008.  The current three-buildingcampus also houses Arotech's World Headquarters and the Training and Simulation Division's FAAC Incorporated, which recently was awarded a contract modification from the U.S. Marine Corps to expand the capabilities of currently contracted USMC Operator Driving Simulators (USMC ODS) to include Cougar Category (Cat) I MRAP operations. 
 IES is widely recognized as one of the pioneers in developing and introducing the first truly portable interactive digital force-options training simulator (in 1995) with the on-board capability for end-users to easily create their own interactive scenarios.  Since then, IES has been leading the way in manufacturing and providing affordable, reliable, interactive use-of-force simulators for law enforcement and public safety training.  IES looks forward to welcoming all of our clients and customers to visit our expanded facilities to see what IES has planned and will be delivering in 2008 and beyond.
For more information on IES Interactive Training or its products, please contact Robert McCue at 1.800.344.1707 or visit IES's website at www.ies-usa.com
 About Arotech's Training and Simulation Division
Arotech's Training and Simulation Division develops, manufactures, and markets advanced high-tech multimedia and interactive digital solutions for use-of-force and driver training of military, law enforcement, security, municipal and private industry personnel. The division's fully interactive driver-training systems feature state-of-the-art vehicle simulator technology enabling training in situation awareness, risk analysis and decision-making, emergency reaction and avoidance procedures, and conscientious equipment operation. In addition, the division's use-of-force training products and services allow organizations to train their personnel in safe, productive, and realistic environments. The division also provides pilot decision-making support software for the F-15, F-16, F-18, and JSF aircraft, as well as simulation models for the ACMI/TACTS air combat training ranges.
Arotech's Training and Simulation Division consists of FAAC Incorporated and IES Interactive Training Inc.
About Arotech Corporation
Arotech Corporation is a leading provider of quality defense and security products for the military, law enforcement and homeland security markets, including multimedia interactive simulators/trainers, lightweight armoring and advanced zinc-air and lithium batteries and chargers. Arotech operates through three major business divisions: Armor, Training & Simulation, and Battery & Power Systems.
Arotech is incorporated in Delaware, with corporate offices in Ann Arbor, Michigan, and research, development and production subsidiaries in Alabama, Michigan, and Israel. For more information on Arotech, please visit Arotech's website at www.arotech.com.
For more information on Arotech or investor and public relations, please contact Victor Allgeier, TTC Group, 1.646.290.6400, vic@ttcominc.com