Ford deploys new prisoner transport vehicle
2015 Ford Transit Prisoner Transport vehicle can carry as many as 12 inmates in 3 separate compartments
---
By C1 Staff
Ford has recently unveiled its new Ford Transit, to be used to safely and securely transport prisoners between facilities.
The 2015 Ford Transit Prisoner Transport Vehicle, or Transit PTV, features an upfit prisoner conveyance system. It offers space to carry as many as 12 prisoners in three separate compartments.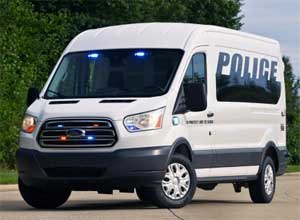 It's built on the all-new 2015 Ford Transit van, which officers the most configuration choices among full-size vans to provide a vehicle that meets the specific needs of buyers.
Transit is available in three roof heights, two wheelbases, three lengths and four body styles. It provides a range of powertrain choices with a lineup that includes two gasoline engine options, an E85-capable 3.7-liter V6 and an available 3.5-liter EcoBoost as well as an available 3.2-liter Power Stroke diesel.
Transit makes extensive use of boron steel, which has proven its durability through more than 7 million miles of testing.