Calif. grand jury report eyes anti-recidivism programs to reduce jail needs
The report also recommends Santa Cruz County to put more money toward hiring and retaining the jail's employee count
---
By Jessica A. York
Santa Cruz Sentinel, Calif.
SANTA CRUZ, Calif. — Santa Cruz County needs a new main jail — but not until an effective anti-recidivism program has been funded and deployed, a civil panel of local residents found in a new analysis.
Each year, the Santa Cruz County civil grand jury tours four county corrections facilities in preparation for a potential report. This year's tour of the Main Jail, on Water Street in Santa Cruz, revealed a facility described in a 21-page report released Thursday as an "aging, dismal" jail. The report is available online in its entirety at scgrandjury.org.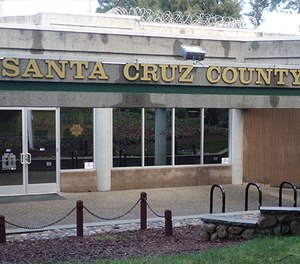 Reiterating a corrections' staffing "crisis" most recently announced in September 2021 by jail operator the Santa Cruz County Sheriff's Office, the grand jury report recommends the county put more money toward hiring and retaining the jail's employee count, to start. The staffing issue also gained attention from past grand juries, as evidenced by their 2018-19 grand jury jail inspection report and the 2020-21 "Justice in the Jail" investigation. According to a source labeled as a confidential interview, turnover is high for new correctional officers, with some becoming deputies and others leaving for other law enforcement agencies.
Additionally, building a much-needed new jail housing 500 inmates, according to the report's estimates, would run the county about $200 million. The existing facility, expanded multiple times over the years, was initially built in 1981 and most recently has a rated capacity of 319 inmates.
Reduce recidivism before building
The meat of the report, however, is spent on urging the county-funded Public Defender's Office, Behavioral Health and others to first "reduce the distressingly high number of inmates who commit further crimes and end up right back in jail."
The report lists several existing efforts already in place, including diversion programs administered by the Santa Cruz County District Attorney's Office, the Sheriff's Custody Alternatives Program, allowing for job and/or community service-based jail releases, restorative justice program Neighborhood Courts, the Focused Intervention Team for more serious repeat offenders and the cross-agency Coordinated Access for Empowering Success program, diverting first-time offenders from jail time.
The Pretrial Division of the county Probation Office also assesses which defendants may be released from jail ahead of trial, recommending the detention of only "those for whom a significant public safety concern exists." Since 2015, the population of pretrial-released individuals has increased from 38 to 249 in 2022, according to the report. The Pretrial Division estimated that keeping offenders out of jail saved more than 91,000 jail bed days in 2022, resulting in a cost savings of more than $26 million, according to the report.
Missing from the puzzle, according to the report's findings, is sufficient "step down" programs outside of jail, providing continuing care for released inmates. For all the programs in place, the county's 10-year recidivism rate is a "horrifying" 60%, according to the grand jury's investigation. However, during the height of the coronavirus pandemic, the jail population was reduced by about a third of its population, in order to reduce spread of the disease, according to the report. In that time, about 15% of those released became recidivists, the report's authors found.
"Better funding for step-down programs, such as those described above and run by the Public Defender's Office and Behavioral Health is desperately needed," the report reads. "This could produce positive results much quicker, and at far less cost, than the estimated 5-8 years to build a new jail."
___
(c)2023 the Santa Cruz Sentinel (Scotts Valley, Calif.)
Visit the Santa Cruz Sentinel (Scotts Valley, Calif.) at www.santacruzsentinel.com
Distributed by Tribune Content Agency, LLC.
McClatchy-Tribune News Service