Jails emptying as criminal justice reform quietly takes hold in NH
Several jails are seeing lower inmate populations, with some dropping by almost half
---
Mark Hayward
The New Hampshire Union Leader, Manchester
MANCHESTER, NH — Several county jails are seeing drastic reductions in their inmate population, some dropping by almost half over a two- or three-year period, local corrections officials say.
Superintendents in the jails that serve the state's three southern-most counties said they've all experienced drastic reductions. They say various factors are at play.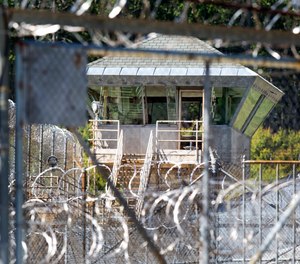 Some factors are controversial, such as last year's bail reform law, which lawmakers are likely to toughen.
Others are solemn. Overdose deaths have pared the population of recidivist inmates, those with lengthy rap sheets for petty crimes who are in and out of county jails, said Rick Van Wickler, the superintendent at the Cheshire County jail.
Other factors are programs such as drug court, mental health court and county-launched diversion programs that offer treatment-focused alternatives to incarceration.
"Finally, in the corrections environment we're getting the chance to practice corrections," said Stephen Church, the superintendent of the Rockingham County jail, who has been in county corrections for 30 years. "Just putting people in cells and letting them out doesn't work."
Four years ago, his average inmate count was 247. When he spoke to a reporter last week, he was housing 147.
The number of inmates in the state's largest jail, Valley Street jail in Manchester, was 260 on April 1. In September 2015, the population was 502, and last September it was 395.
The drop prompted Corrections Superintendent David Dionne to request a slight budget reduction when he appeared before county commissioners earlier this month. He cited numerous reasons: bail reform, drug court, mental health court and his jail's own drug treatment program.
Not all have experienced such a reduction.
In Belknap County, the annual average daily population count has stayed in the mid 80s to low 90s over the last four to five years, said jail Superintendent Keith Gray.
"Every county has different judges, different interpretations of the bail reform law," he said.
And the state prison system has experienced a much lower reduction than counties — a 6 percent drop over the last five years, to 2,550 inmates. Spokesman Laura Montenegro attributed the drop to reductions in new crime admissions and probation violations.
The jail in Strafford County has a stable population, too. But that's because the county instituted a Community Corrections program more than a decade ago and saw reductions then, said County Administrator Ray Bower.
Such efforts capture the spirit of the bail reform law adopted last year.
Community Corrections staff meet with a defendant prior to a bail hearing and work up a plan. It involves family support, employment, drug or mental health treatment and restrictions on when a defendant can be outside his home and where he can go, Bower said.
The staff also monitors them. Staff will call a defendant to remind him or her of a court date. They will visit at work. And some inmates will be on electronic ankle bracelets that monitor locations and issue warnings if a defendant enters a victim's neighborhood.
The Strafford County jail, built to hold 495 inmates, had 101 county inmates as of last week. Another 305 federal prisoners, many Immigration and Customs Enforcement detainees, were incarcerated there, which generates millions for the county over a year's time.
"This isn't something everyone falls in line with and says we should do this," Bower said. "We had to crawl before we could walk. Now we're jogging."
An essential component of the state's criminal justice system, county jails operate independently. The state Department of Corrections operates state prisons, halfway houses and state parole and probation programs.
Jails house inmates awaiting trial — for everything from drunken driving to murder. And they house people sentenced to jail for a year or less, generally those guilty of misdemeanor crimes.
A county's jail, also termed a house of correction, is funded and overseen by county government. When reforms happen, it involves collaboration by the jail, county prosecutors, judges, the sheriff and county commissioners, officials said.
"You've got to get the whole criminal justice wheel in your county involved," Church said.
He said bail reform did not have as big an impact on his population as Felonies First, a court reform that went into effect in late 2017.
Under Felonies First, a person arrested on a felony charge is promptly arraigned in superior court, where felony crimes are adjudicated. Previously, an inmate was arraigned in district courts, which handle misdemeanors and traffic violations.
The lower-court judges would set a high bail, and defendants would enter what Church called "the black hole of criminal justice," often waiting months before the case moved to superior court.
Both Dionne, at Hillsborough County, and Van Wickler, at Cheshire County, said overdose deaths also contribute to the reduction.
Van Wickler said one of his sergeants started tracking the deaths of recidivists, culling names from obituaries and other sources. An average of 27 died in each of the last two years.
"All these people, they come in, they come out, and suddenly you don't see them anymore," Van Wickler said. His census last week was 115, down about 10 or 15 from what it would have been the previous year, he said.
He said Felonies First and bail reform are factors.
"All these things are coming together from the late '90s and 2000s, what reformists had been yelling about," he said.
For those in jail, the environment is changing.
Felicia Gray said inmates get along better when there are fewer in a tier. "There doesn't seem to be as many bullies," Gray said. Accused of providing drugs to someone who died, she was denied bail.
In the tier with her last week was Tiffanie Portinari. A sentenced inmate, Portinari was participating the the jail's in-house drug treatment program. She and fellow enrollees are in class and counseling for six hours a day. Once that is complete, they will be sent home early, and the jail will check up on them.
Of the 151 enrolled in the program, only 16 have failed, according to statistics he shared.
The latest criminal justice reform piece — bail reform — is creating some pushback. Gov. Chris Sununu signed it into law last year despite the opposition from county prosecutors.
Patricia Conway, the Rockingham County Attorney, said judicial warrants — which a judge issues when a defendant doesn't show up to court — are way up. That means more work for sheriff deputies, who have to chase down the defendant, and more work for court clerks and prosecutors.
Likewise, Hillsborough County's Dionne said police are more busy because people who would be in jail are now on the street.
"My recidivism has gone down, their (police) work has gone up," he said.
But he remains a strong supporter of setting bail based on the ability of a person to pay.
Before bail reform, the county had to feed and provide medical care for someone who can't afford a $50 bail. If the inmate killed himself, his staff would take it hard. And even a brief incarceration would prompt a suspension of an inmate's Social Security disability benefits, further complicating the chances of success outside the jail, Dionne said.
Prosecutors are working with lawmakers to pare back the reform. Changes could amount to allowing a judge to take a person's drug abuse into account. Another change would allow a high bail for people with a history of skipping court dates.
"We just want to make sure folks dangerous can be held, and risk of flight held as well," Conway said.
Rockingham County Attorney Patricia Conway applauded the larger aspects of criminal justice reform such as diversion programs. As jails become more experienced with corrections and diversion — Rockingham County is preparing to provide suboxone and methadone to inmates — the jails may end up filling up with people participating in true rehabilitation programs.
Although criminal justice reform has been around for years, it came into focus in New Hampshire when county officials faced the potential of spending millions to build more jails.
"It forced people to really look at the problem; who are we putting in jail?" she said.
Church, who started in corrections working a cellblock, said he's a die-hard Republican conservative who favors law and order. But over a three-decade career, he's seen what works and doesn't work.
A lot of that time, he said, the system was just spinning its wheels.
"I've seen how we treat the issue, and people come around," Church said. "The one thing that haunts me is not doing that 15, 20 years ago."
———
©2019 The New Hampshire Union Leader (Manchester, N.H.)
McClatchy-Tribune News Service