Mich. prisoners train to trim trees around power lines
The vocational training program is a life changer for inmates who are eager to "work and contribute to the wellbeing of their families and their communities"
---
By Corey Williams
Associated Press
JACKSON, Mich. — When Scott Steffes leaves Michigan's Parnall Correctional Facility this month he anticipates entering a new career that will take him upward of 25 feet (7.6 meters) above ground.
Steffes, 37, is one of more than a dozen prisoners learning how to climb trees and trim branches around power lines as part of DTE Energy's $70 million plan to improve the utility's electric infrastructure.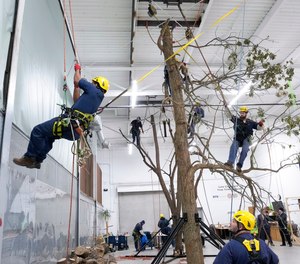 "This has helped my situation in getting prepared for the outside world," Steffes said, minutes after lowering himself by rope from wooden posts in one of the yards outside Parnall's Vocational Village, 78 miles (125 kilometers) west of Detroit.
Prisoners who participate in the tree-trimming program at Vocational Village receive a daily stipend of between 94 cents and $1.31.
Steffes has served four years for domestic violence. He previously served time for theft and larceny.
"I didn't know what I was going to do upon my release," he continued. "I didn't know where my life was headed."
His release date is Jan. 17. By the following Tuesday he expects to be on the job with one of a number of companies contracted by Detroit-based DTE Energy.
Line trimmers "are extremely in demand, right now," said James Shaw, business manager of Local 17 for the International Brotherhood of Electrical Workers. "As we start rebuilding the electrical infrastructure around the country, a lot of it is clearing the lines. Customers don't want to be out of power."
The union partners with DTE Energy, one of Michigan's largest electric utilities, on the prison program as well as a tree-trimming training program.
Both are unique to the state and U.S., according to a DTE Energy spokesperson.
The utility says fallen trees and branches are responsible for 70% of its power outages. DTE Energy often hires trimmers from other states to clear lines during major outages.
"They follow the storms. That's where the money is," said Terrell Lockhart, a manager at DTE Energy. "All this money is going to out-of-staters. We can save that money. We can do good for the local community by making this upfront investment."
An Aug. 29 storm with winds that topped 70 mph (113 kph) downed trees, branches and power lines leaving more than 400,000 homes and businesses in Michigan without power. DTE Energy reported that more than 231,000 of their customers were without power. The previous year, nearly a million utility customers in Michigan lost power during a major storm.
This fall, Michigan's Public Service Commission ordered DTE Electric Co. and Jackson-based Consumers Energy to report their compliance with regulations — and past orders on outages and downed lines. The order was born out of growing concern about the lack of progress in reducing power outages and preventing the public's contact with downed power lines.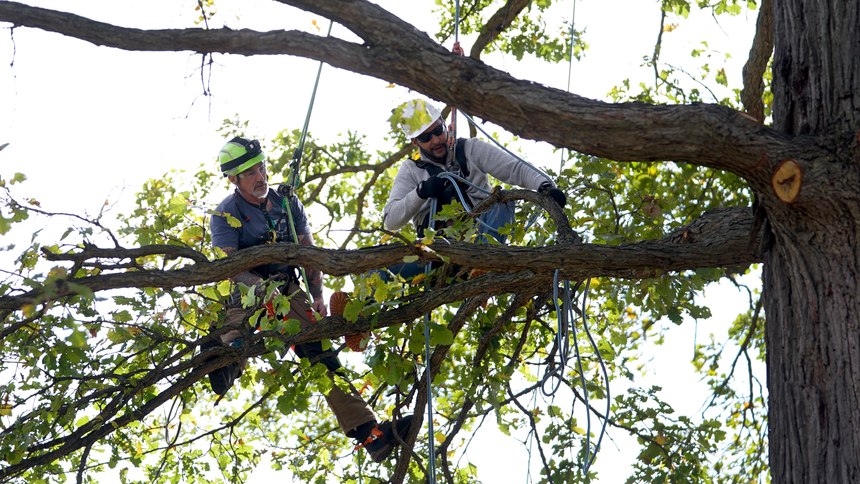 "We still need a ton of tree trimmers," Lockhart said. "Trees, they're constantly growing."
In April 2021, DTE Energy partnered with IBEW Local 17, the city of Detroit and nonprofits to recruit residents from the city and surrounding communities to enroll in its Tree Trim Academy. The goal is to train local residents on line clearing.
Half of the 59 graduates from the academy's pilot class are Detroit residents. Forty-seven graduates are people of color and six are women.
So far, about 100 people have graduated from the academy. More than 80 graduates have been hired by tree trimming companies and are working on projects.
Students in the academy earn a daily stipend of $50 for the first two weeks of career prep curriculum, which then increases to $100 for the remaining five weeks of the program — when they're taught line clearance, safety, use of tools and machinery, and climbing.
As a woodsman, pay starts at $17.50 per hour plus benefits. After two and a half years, when workers reach journeyman status, pay increases to nearly $32 per hour. They also receive benefits.
"Due to the large amount of overtime, a journeyman line clearance tree trimmer can make $70,000 to $120,000 per year, give or take," Shaw said.
Sean Anderson calls the program a "life changer." The 29-year-old Detroit resident was a trainee at the academy this fall.
"I've never made this much money and I've never had a career, so I've never thought about ever being in a situation like this," Anderson said. "But I'm glad I'm here now. Nobody wants to be poor."
Jeffrey Gunnells was sentenced in 2018 to up to 15 years in prison for armed robbery — and was paroled last April. He graduated from the program at Parnall and is now an instructor for the program, as well as a certified arborist.
Since the partnership's start in 2019, 25 people have graduated from the program at Parnall.
"When you're in prison, you're pretty much kicked around by a pretty cold system. Everybody looks at you as somebody who's been untrustworthy," Gunnells said.
"You have guys that are so grateful for an opportunity — and they're hungry to get out here, and work and contribute to the wellbeing of their families and their communities, and basically redeem themselves."