NYC judge orders release of Rikers detainee, citing inmate 'fight club,' horrific jail conditions
Judge April Newbauer wrote that officials "utterly failed" to prevent the crisis at Rikers Island despite clear warning signs
---
By Graham Rayman
New York Daily News
NEW YORK — In a decision that could have broader implications for the beleaguered city jail system, a Manhattan judge ordered the release of a Rikers Island detainee because the city Correction Department failed to prevent appalling conditions and "fight club" violence.
Judge April Newbauer wrote in her scathing Dec. 22 decision that Correction Commissioner Vincent Schiraldi and Mayor de Blasio "utterly failed" to prevent the crisis at Rikers Island despite clear warning signs.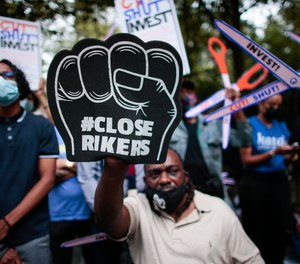 The conditions of confinement for the inmate — identified using the pseudonym "Relator G" — amounted to a violation of the constitutional right to due process, the judge found.
The ruling details an out-of-control jail system. Inmate leaders, the judge wrote, used their power to force detainees to fight each other for their amusement as correction officers did nothing.
The leaders held more power than jail staff — surveillance video captured one of the inmate leaders overruling a correction officer about when inmates could go out to the recreation yard, the judge wrote.
The Correction Department's "deliberate indifference" forced her to release the detainee with an electronic monitor while he fights a first-degree burglary charge — a "violent felony offense," Neubauer wrote.
The ruling corroborates findings made by the federal monitor overseeing the jails and inmate accounts featured in The News over the last year.
Schiraldi and de Blasio "utterly failed the public as well as this (detainee) by ignoring the looming threat of a crisis at Rikers Island, by delaying emergency measures as staff shortages increased, and by not adopting an 'all hands on deck' approach to this entirely foreseeable crisis," the judge wrote.
The judge allowed Relator G to use a pseudonym because he could face retaliation behind bars. An evidentiary hearing on his claims about conditions at Rikers in November featured testimony by the inmate, a correction officer and evidence from surveillance cameras.
Relator G's arrest in Manhattan on June 21 began a four-month ordeal.
"(The detainee) described squalid conditions, rampant violence among and to detainees, and a lack of essential services such as food and water," Newbauer wrote. "(He) ascribed these conditions mostly to a lack of supervision of other detainees who bullied and commandeered resources."
After entering Rikers, Relator G was held in a small intake area with 15 other people awaiting a bed for three days — far longer than the required 24 hours. He had no mattresses or blankets.
Sent to the Otis Bantum Correctional Center, Relator G said he was attacked by four other detainees using sharp weapons made out of plastic and metal. He suffered bruised ribs and a black eye.
Security video footage showed that one of the attackers covered a camera with a towel for two hours — an egregious security breach that should have been caught within minutes by staff.
When the camera was finally uncovered, it showed the assault of Relator G spilling out of a pantry area and into a hallway. A lone female officer doused multiple armed detainees with pepper spray as they hurled heavy objects at her and the inmate.
[RELATED: Rikers gang attacks injure at least 11 NYC corrections officers]
After that, Relator G was moved to a second intake area at the George R. Vierno Center where he lingered for 11 days and was barely fed, the judge wrote. When he did receive food, it was one meal consisting of a bowl of cereal and several scoops of jelly. He was then transferred to a dorm in GRVC.
"(The detainee) depicted a state of affairs at Rikers where a skeleton staff of COs ceded control of basic jail operations to other selected incarcerated individuals," Newbauer wrote.
"Relator G testified that the leaders at the various housing units controlled other detainees' access to food, with the leader receiving meals first and then rationing out the remaining food to the other detainees. The leaders would also control the supply of water in the cell block by directing COs to place the unit's water jug in the cell of a detainee loyal to the leader, i.e. a sidekick."
The inmate had to beg the leaders to use the phone, "further an atmosphere of fear and intimidation," the decision said.
The nightmare culminated in an Oct. 19 "fight night," where the inmate leaders forced other inmates to brawl for their pleasure, the judge wrote. Other inmates crowded around and cheered.
After witnessing two fights, a leader tapped the detainee on the shoulder, indicating he had been selected to next compete. Relator fought his opponent with "full force" until the leader gave the signal to stop. Relator G was taken back to his cell and given food and cigarettes for his efforts.
Through it all, correction staff were captured on video seemingly indifferent to the forced combat, the decision says. Video showed one officer watching the fights, doing nothing to stop them.
Video captured another correction officer telling detainees to "quiet things down," and make the violence less obvious to staff, the decision said.
The episode recalls the worst of the "Rikers fight club" scandal of around 2008 and 2009, when correction officers essentially deputized gang members in the Robert N. Davoren Center to run their housing unit and allowed arranged fights. Detainee Christopher Robinson, just 18, was beaten to death in December 2008.
Relator G testified he was too terrified of retaliation by both staff and inmates to report the violence.
Newbauer found that the account corroborated reports by the federal monitor overseeing the jails which in its Dec. 6 report laid bare a "persistently dysfunctional system" run by staff with an "absence of elementary skills."
The detainee's treatment took place at a time when officers worked double and triple tours and many were out sick, on medical monitoring or simply AWOL. On Sept. 13, a group of state legislators dubbed the situation a "humanitarian crisis."
On Oct. 19, the day of "fight night," 1,476 officers were out sick, 31 were AWOL and 73 housing areas were unstaffed, Newbauer wrote.
"DOC failed to present any evidence that might contradict the major allegations raised by Relator G in his testimony," Newbauer wrote. "DOC had every opportunity to call COs who did have personal knowledge of these incidents and to rebut the claims made by Relator G, but elected not to ... The silence spoke volumes."
In its defense, DOC's lawyers asserted that they are taking reasonable care to mitigate the risk of harm at Rikers Island. The troubled agency argued the detainee's injuries were not serious enough to merit legal claims. Instead, the detainee had been merely "bullied," the Department wrote. The agency also tried to downplay the detainee's medical conditions.
"To put it bluntly, this court disagrees," Newbauer wrote. "Relator G has conclusively established that DOC failed to act — and continues to fail to act."
DOC also objected to Relator's release because officials were scared that it would "open the floodgates" to other claims from inmates.
"Courts cannot shrink from the obligation to rectify constitutional violations against incarcerated individuals simply because a remedy would involve intrusion into the realm of prison administration," the judge wrote.
McClatchy-Tribune News Service