Attorney General Barr sends BOP riot teams to DC, Miami
The move to send the BOP's Special Operation Response Teams comes as violence continues across the country
---
By Sarah Calams
WASHINGTON — In response to the violence and riots that have broken out across the U.S., Attorney General William Barr has called on the Bureau of Prisons' riot teams to be sent to Washington, D.C., and Miami.
Barr will send the BOP's Special Operation Response Teams to the two cities to assist local authorities after the protests related to the death of George Floyd escalated Sunday night, Fox News reported. In D.C., DEA agents and the D.C. National Guard were also sent to help local police, Secret Service and Homeland Security agents.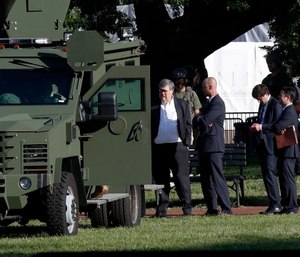 Meanwhile, the FBI will be setting up command posts across the U.S. to help conduct interviews if any federal crimes have been committed.
"With the rioting that is occurring in many of our cities around the country, the voices of peaceful and legitimate protests have been hijacked by violent radical elements," Barr said. "Groups of outside radicals and agitators are exploiting the situation to pursue their own separate, violent and extremist agenda. It is time to stop watching the violence and to confront and stop it."
According to Barr, the Justice Department and FBI's independent investigation into the death of Floyd is "proceeding quickly." The investigation will determine whether any federal civil right laws were violated.