Details emerge in riot at Fla. juvenile detention center
Officers were hit with tray cart handles, punched and one even found himself held in a bear hug inside a cell
---
By Patricio G. Balona
The News-Journal, Daytona Beach, Fla.
DAYTONA BEACH, Fla. — Detention officers at a Daytona Beach juvenile jail lost control of part of the facility Sunday when two inmates tried to escape, sparking a riot that trapped and injured them, authorities said.
A Volusia County Sheriff's Office report and 9-1-1 call were released Monday. The report states deputies were summoned to the facility at 3840 Old DeLand Road shortly after noon to regain control of two sections — Detention Pods C and D — at the Volusia Regional Juvenile Detention Center and rescue staff trapped in the melee.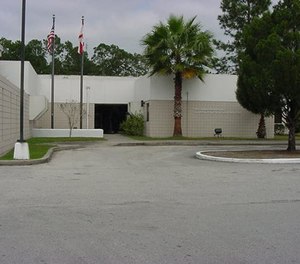 Detention officers were hit with tray cart handles, punched and one even found himself held in a bear hug inside a cell, a Sheriff's Office report states.
"We have a riot, basically," said a nurse to a 9-1-1 dispatcher. "We have multiple fights and out-of-control youth in the building."
Sheriff's spokeswoman Laura Williams said the detention staff members suffered minor cuts and scrapes in the 30-minute riot.
"Just after noon today, the Sheriff's Office responded to a 'riot situation' at 3840 Old DeLand Road, Daytona Beach, at the Department of Juvenile Justice," Williams said on Sunday.
In the 9-1-1 recording, the nurse described what was going on at the juvenile jail as she relayed information to dispatchers, who were sending deputies to "disperse an active riot," a report notes.
The nurse reported that the juveniles broke tray carts and were using the handles as weapons. After detention staff managed to seize most of the tray handles, the group, with inmates ages 13 to 18, got a hold of lunch trays and tried to hit the trapped staff members.
The caller said the fight started in the Delta unit of the facility where detention officers found themselves locked up with the juveniles.
"They are surrounding staff in the unit," the caller to 9-1-1 said. "They can't get in or out of the unit. We got all three officers trapped in there."
In their report, deputies said the detention center "completely lost control of the facility and needed assistance from the Volusia County Sheriff's Office to restore order and gain control of the facility."
Arriving deputies found several physical confrontations with multiple juvenile inmates and staff members inside Pods C and D and entered the facility to help "entrapped detention facility staff."
A riot broke out in the same area of the facility in July 2011. Five juveniles and two detention officers were injured in that incident.
The detention center is a 60-bed state facility that serves youth detained by various circuit courts pending adjudication, disposition or placement in a commitment facility.
Deputies said about 20 juveniles detainees in the facility were involved in the Sunday fracas.
In the last year, there have been 12 fights and three disturbances reported at the juvenile detention facility, according the Sheriff's Office records.
Records also show that numerous incidents of assault and battery were reported at the center.
The teens in Sunday's uprising would not obey deputies' commands to stop so deputies had to put the inmates in handcuffs to regain control of the facility, the report states.
Detention center Lt. Sylvania Parris, 53, told deputies that her officers were passing out trays when Jahrece Austell, 17, and Zion Counts, 17, tried to escape from their holding cells.
Parris secured Counts and called for help but Austell ran out of his cell and began violently turning over lunch trays and attempting to remove a television from the wall, the report states. Four other juveniles, Jemari Overstreet, 18, Eugene Green Jr., 13, Stephen Hawkins, 14, and Terrion Whitaker, 13, battered Officer Wynshad Medley, 20.
Counts then grabbed Parris by the leg and would not let go, and bent her right thumb backward causing her pain, the report detailed.
Medley suffered a busted lip when he was beaten by the teens, who took his keys, and Austell used the key to try to open the cell door but was stopped, deputies said.
Another detention officer, Desmond Little, said he found Counts and Parris engaged in a physical fight and helped Paris secure Counts. Parris then closed the door leaving Little with Counts in the cell.
Counts then put Little in a bear hug and would not let go until deputies came and separated Counts from the officer, the report states.
Austell, Counts, Overstreet, Green, Hawkins, Whitaker, K'veon Jiles, 13, Davion Smith, 15, and Tyler Gibson, 16, were all charged with inciting a riot and resisting arrest.
Counts, Austell, Whitaker, Overstreet, Green and Hawkins were also charged with battery on detention staff. Austell was additionally charged with strong-arm robbery for forcibly taking cell keys from Medley, investigators said.
In the report, deputies wrote that multiple requests to the state for the video surveillance footage were not fulfilled.
Amanda Slama, spokeswoman with the Florida Department of Juvenile Justice in Tallahassee on Monday emailed a statement to The News-Journal.
Slama said the Florida Department of Juvenile Justice takes the safety and security of youth in our custody as a top priority and appreciates the Sheriff's Office's swift response of deputies to help with the disturbance.
"We are currently reviewing this matter," Slama said. "Should it become apparent that a failure to follow policy and procedures contributed to this incident, staff will be held fully accountable for their actions."
©2018 The News-Journal, Daytona Beach, Fla.