Lawmakers seek tour of SC prison home to deadly riot
The legislators also requested information on how inmates have been treated since the riots
---
By Meg Kinnard
Associated Press
COLUMBIA, S.C. — A handful of South Carolina lawmakers told state officials Thursday that they want to see firsthand the conditions inside a maximum-security state prison where a riot killed seven inmates.
In a letter obtained by The Associated Press, five Democratic lawmakers told Gov. Henry McMaster and Corrections Director Bryan Stirling that they want to tour Lee Correctional Institution "as soon as possible." The legislators also requested information on how inmates have been treated since the riots, including whether mental health counseling has been made available since the deadly riots that began Sunday night.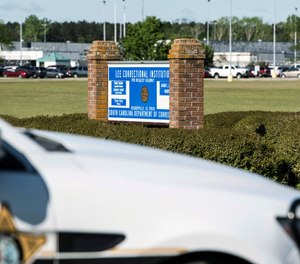 "We do not believe such violence is inevitable," wrote state Reps. Justin Bamberg, John King, Todd Rutherford, James Smith and Will Wheeler. "Rather, we believe it is preventable. Lack of action now to stop an incident from occurring in the future would be an inexcusable failure of leadership."
Seven inmates were killed and 22 were injured in a seven-hour riot that began Sunday night at Lee, 40 miles (64 km) east of Columbia. State police are still investigating, and no charges have been filed.
Also Thursday, state prison officials announced they'd contracted with an independent group that's doing a "thorough review" of the riot.
Stirling and McMaster have said the riot was a gang fight over territory and contraband, including cellphones. For years, they and other state officials have long denounced cellphones — which agency policy prohibits inmates from having — as the No. 1 security threat behind bars, saying the state wants the ability to utilize technology that will jam cell signals behind bars.
Current federal law prohibits state entities from being able to use that technology. South Carolina has previously sought waivers to test it, and Stirling has testified multiple times before federal officials about how he feels his institutions need it.
But the lawmakers took issue with the pronouncement that cellphones are to blame.
"While access to cellphones within prisons is a problem that must be addressed, it is inaccurate to blame a riot that lasted more than seven hours, involved three dormitories, and left seven inmates dead on this," they wrote.
For the past few months, AP has been communicating with a Lee prisoner who used a contraband cellphone to offer insight into life behind bars. Describing frequent gang fights with inmates using homemade weapons, he said inmates roam freely, have easy access to cellphones and drugs, and are often left to police themselves.
"ALL of the doors to the cells are broken," wrote the inmate, who spoke to AP on the condition of anonymity because his cellphone is illegal and he fears retribution from other prisoners. "At any time, I can let myself out of my cell, to do whatever it is that I would want to do."