Ex-Miss. prisons chief to be jailed until sentencing
A federal judge revoked the bail of Christopher Epps and sent him to jail to await sentencing in a corruption case
---
By Jeff Amy 
Associated Press
JACKSON, Miss. — A federal judge revoked the bail of Mississippi's former corrections commissioner and sent him to jail Friday to await sentencing in a corruption case after finding he had probably committed a crime when he took outdoor lights from a home he forfeited to the federal government.
Christopher Epps pleaded guilty in February 2015 to charges of money laundering and filing false tax returns over bribes. He had been free on $25,000 bond awaiting a May 24 sentencing but was arrested Tuesday and charged with burglary by police in the Jackson suburb of Flowood. The five lights and a control box are worth less than $1,000.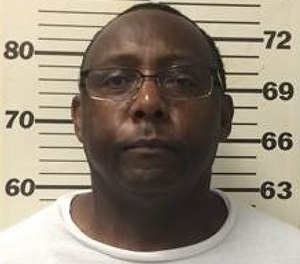 U.S. District Judge Henry T. Wingate on Friday revoked the bond and ordered Epps jailed until sentencing next May. Wingate said he believes there are no conditions that would guarantee Epps will not commit another crime.
"While Mr. Epps has been compliant all these many months, now he has determined not to be compliant," Wingate said from the bench, saying he felt Epps' history dating back to 2014 of complying with bail terms no longer applied.
Epps faces up to 23 years in federal prison and has forfeited more than $1.7 million in assets. He could face three to 25 years in state prison if convicted of burglary.
Epps acknowledged taking the lights but called it "a terrible mistake" in testimony Thursday, saying he went on the spur of the moment after realizing he had left the lights. Epps said he didn't realize, or had forgotten, that he had been ordered to remove all his belongings from the house in a gated subdivision before May 9.
Epps' lawyer, John Colette, argued Friday that Wingate could safely leave Epps at home by putting him under house arrest or electronic monitoring. Colette argued that the sequence of events that had led Epps to the house would not recur.
"Are we trying to punish him for getting into his old garage, or are we trying to ensure that he will appear for sentencing in May?" Colette asked, saying that the purpose of bail is to guarantee a defendant's appearance.
Assistant U.S. Attorney Darren LaMarca, though, said Epps should have known he was breaking the law.
"Everything the court has heard has been a justification for him breaking and entering into this home to take what he considered was his," LaMarca said.
Over the course of the two-day hearing, Wingate repeatedly expressed disbelief that Epps would have returned to the house for to retrieve lights. He first questioned whether Epps was under the influence of alcohol or drugs, and then asked whether there might have been something else more valuable stashed at the house. A new owner completed the purchase of the house the next day, Oct. 28, and reported to Flowood police that the control box was missing, sparking an investigation that quickly led to Epps.
Prosecutors told Wingate that neighbors reported no indication that Epps had consumed alcohol or drugs. No evidence of any other valuables emerged, although Wingate ordered a probation officer to investigate how Epps came to have $5,000 in cash at his new home. Testimony Thursday showed Epps is drawing a state pension and his wife continues to work as a nurse.
"There was no hidden money in the attic," Colette said. "There was no jewelry."
It's unclear where Epps is being held. Typically, federal prisoners in Jackson are held at the nearby Madison County jail, but discussion Friday in the courtroom indicated Epps would be jailed a considerable distance from Jackson. As the longtime head of the state prison system, Epps could be in danger among Mississippi inmates.