Calif. prisons phase out 'sensitive needs' yards
Inmates sent to the sensitive needs yards are historically inmates who face threats from the general population
---
By Nashelly Chavez
The Sacramento Bee
SACRAMENTO, Calif. — The California Department of Corrections and Rehabilitation is changing how inmates are housed, saying current separations between general population inmates and those held in sensitive needs yards have been ineffective in eliminating gangs and violence within prison walls.
The agency will instead move toward creating some "non-designated program" facilities, where both groups will be tasked with co-existing. The current system has bred new gangs within the sensitive needs yards, resulting in escalating violence, CDCR Undersecretary of Operations Ralph Diaz said.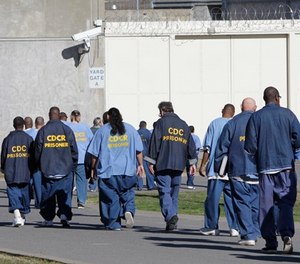 "We are going to do behavior-based programs and holding people based on their own behavior," Diaz said.
"These are the individuals that will eventually be returning home," he added.
The transition may not be smooth, however, says Joshua Mason, a south Sacramento resident, gang expert and former inmate within the state's prison system.
Inmates sent to the sensitive needs yards are historically inmates who face threats from the general population for factors like helping prison administration as informants, leaving a gang or being convicted with an unfavorable crime, like child molestation.
The program started more than two decades ago to address escalating violence within the prisons, CDCR Secretary Scott Kernan said.
Over the years, inmates in the general population have thought of those prisoners as "snitches" or lower-tier inmates, according to Mason. Meanwhile, inmates held in the sensitive needs yards have created their own gangs as more inmates were transferred to the special housing units, he said.
"I would be concerned for my loved ones in prison, whether they were in a sensitive needs yard or general population, that they may find themselves, frankly, in an unavoidable situation," Mason said of the reintegration efforts. "To radically throw everything on its head now is pretty crazy."
The system-wide effort to reincorporate the two groups is impacting inmates at the Folsom State Prison, a low-level facility Diaz says the department hopes to establish as a new "non-designated facility." Some family members of inmates there worry that their loved ones could get caught in the crossfire if confrontations between the two groups arise.
North Natomas resident Mary Frances Orduño said she received a worried call from her son's father, who is jailed at the Folsom State Prison, on Tuesday. He told her of a group of 30 protective custody inmates who were moved in with the general population and "immediately walked out and asked to be cuffed," Orduño said.
The COs refused, he told her.
"If you're in protective custody, you're there for a reason, and (the other inmates) know it," Orduño said. "They were saying, 'Well it could get ugly.'"
He also mentioned an incident at Mule Creek State Prison in Amador County involving inmates in protective custody, Orduño said
CDCR spokeswoman Vicky Waters confirmed more than a dozen inmates were involved in a fight there on Monday, but said no inmates or staff members were hurt. She could not provide any more details about the who was involved, saying the incident was still under investigation.
CDCR has the largest protective-custody population in the nation, with the group encompassing about 32 percent of all inmates, Waters said. About two years ago, the department's leaders decided to tackle the growing issue and invited former inmates and reentry groups to discuss solutions, Diaz said.
"This is not something that we just did in a vacuum," he said.
Waters added that the non-designated program facilities are intended to increase the number of rehabilitative and vocational programs available to inmates. Prisoners in the special needs yards will undergo a committee review before being referred to a non-designated program facility, she said.
©2018 The Sacramento Bee (Sacramento, Calif.)