How the Angola prison rodeo brings together inmates, community members
Several programs at the Louisiana State Penitentiary work toward providing a positive re-entry for inmates
---
Louisiana State Penitentiary, more commonly known as Angola, is a prison farm located around 50 miles northwest of Baton Rouge. It is the largest maximum security prison in the United States with around 6,300 inmates and 1,800 staff members. Angola is almost entirely self-supporting with many programs aimed at inmate rehabilitation.
Prison rodeo program
Every Sunday in October Angola holds a prison rodeo, with a spring rodeo held in April. Louisiana State Penitentiary Assistant Warden III of programs Gary Young says the prison rodeo started in 1964 and is still going strong. People from all over the world come to see the rodeo. The stadium where it is held has a capacity of 11,500 people; it costs $20 per person for a reserved seat.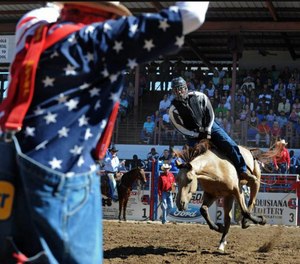 Money raised by the rodeo is used to help the inmates by providing GED programs and other certified trades like auto repair or air conditioner installation.
Inmates participating in the rodeo ride stock supplied by a professional rodeo stock contractor. Warden Young explains that the bulls and broncs for the prison rodeo are not of the same caliber as professional rodeo stock, but the stock for the prison rodeo is still strong and very well maintained.
The rodeo consists of bull riding, bareback bronc riding and some fun and games.
Warden Young said the crowd favorite is the "convict poker" event in which four inmate cowboys sit around a table in the middle of the arena to play poker and a bull is released. The last inmate remaining in his chair wins a prize. Most of the prizes are belt buckles.
Inmate safety and security
Inmates participating in the rodeo all wear helmets, protective vests and a mouth piece. While there have been some bumps, bruises and broken bones, there have been no serious injuries, said Warden Young.
Security is provided by correctional staff and local law enforcement, with medical staff on standby.
The safety and security of everyone is taken seriously at the rodeo, with strict policies and procedures posted online.
Inmate arts and crafts show
A big attraction at the prison rodeo is the inmate arts and crafts show. Gates open at 9 a.m. for the art show, with the rodeo starting at 2 p.m. Inmates are allowed to sell their arts and crafts and keep 85 percent of the profits, said Warden Young. They pay a 5 percent state tax, a 5 percent federal tax and 5 percent goes to the prison fund.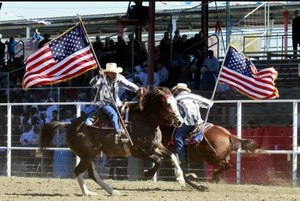 In 2016, inmate Justin Singleton had a booth at the arts and craft show and hoped to make $400 to send to his 15-year-old daughter. Singleton said the rodeo offers inmates something more than money: "Here at Angola, you have very limited contact with the outside world and sometimes it can be a little depressing, so it's encouraging when you come to the rodeo and see so many faces of people who are so happy to be here, treating you as if you're just a regular person."
Warden Young said the visitors love the arts and crafts show. For a few days out of the year, the inmates and the community enjoy the day together. People also enjoy Cajun foods such as crayfish, jambalaya and gumbo, catfish and more. Several inmate bands play music throughout the day.
Angola seminary program
Warden Young and the Angola prison administration are also very proud of the facility's seminary program. The program, which is federally funded by grant money, allows inmates to run their own church. The curriculum is a fully accredited Bible college and is taught by NOBTS (New Orleans Baptist Theological Seminary) and rotating visiting faculty. The 126-hour course operates year round in the prison and is modeled after a Bachelor of Ministry degree.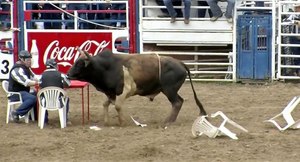 Warden Young explains there are now 15 denominations within the prison. The inmates say the freedom to have a church of their choice creates harmony and peace. Morale is high among inmates who enter this program and is a great step in rehabilitation, said Young. Inmates released from prison can leave as ministers and obtain a position in churches in Louisiana or wherever the inmates live. There are presently 300 inmate ministers at Angola who help mentor and teach other inmates.
If not with the church program, inmates can learn several certified trades at Angola. The goal is to give formerly incarcerated people the opportunity to meet and interview for jobs, increasing their chances for employment after prison.