Inmate firefighters: Helpful resource or public safety danger?
Last year, inmate firefighters made up about 20 percent of California's fire crews to help fight major wildfires
---
By Sarah Calams, C1 Contributor
Twenty-two wildfires are tearing through Northern California, and have killed at least 40 people; injured more than 100; and destroyed thousands of homes, businesses and structures.
The Oakland Hills fire in 1991, which closely resembles the devastation in the Santa Rosa and Napa Valley fires, killed 25 people, including one firefighter; injured 150 others; destroyed over 3,000 homes and burned 1,500 acres. However, authorities said no collection of simultaneous fires in California have ever led to so many deaths.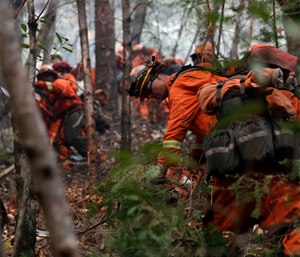 Thousands of firefighters are helping in the containment efforts, but steady winds and non-existent humidity are expected to give the wildfires continued momentum. It's become necessary to call in help.
The controversy
Inmate firefighters are among the firefighters assisting in suppressing the fires.
The inmate firefighter program, according to the California Department of Corrections and Rehabilitation, boasts one big statistic for the cash-strapped state: it saves taxpayers approximately $100 million.
There are currently 43 conservation camps for adult offenders and one camp for juvenile offenders; three of the adult camps include all-female inmate firefighters.
Last year, inmate firefighters made up about 20 percent of California's fire crews to help fight major wildfires, according to CBS News.
Using inmates to battle fires has been long-debated. Critics fear prisoners can cause danger to the public, while some see them as necessary participants. Correction officials have even considered using prisoners with violent backgrounds. The proposal to use prisoners with violent pasts drew nationwide attention, but the plan was dropped a day after the proposal was announced. 
Some argue that the mere thought of using prisoners with violent backgrounds was only proposed because of inmate firefighters' low labor costs.
Jeff Terpstra, a battalion chief from Aptos, California, told Reuters that the work inmate firefighters do is a "right they earn."
"They are the workhorses," he said. "They do the real difficult physical labor."
Other firefighters were more hesitant to work alongside inmate firefighters — some were lured by a 10 percent bonus, according to Reuters.
But much like staffing issues that are plaguing fire departments around the world, the number of available inmates has declined due to a new law enacted in 2011 aimed at easing prison overcrowding. As a result, thousands of lower-level offenders were sent to county jails, which do not participate in the inmate firefighter program. Additionally, in 2014, California passed Proposition 47, reclassifying nonviolent felonies as misdemeanors punishable by serving time in county jails. 
The AP reported that California was about 600 inmates short of the 4,300 inmates who could be available for fire lines last year.
Working as an inmate firefighter
To calm the nerves of those who fear for safety, inmate firefighters are vetted and trained.
Inmate firefighters must:
Have nonviolent pasts
Demonstrate an aptitude for firefighting
Have minimum-level custody status for outside work assignments
Be certified as physically fit
Complete two weeks of training
At the end of their training, all inmate firefighters will acquire 64 hours of training before working on the fire lines.
In return, inmates will have a day shaved from their sentences for every two days they work in fire camps.
Inmate firefighters are paid:
$2 for each day in fire camp
$1 an hour while working on a fire line
"Getting a $1 hour is huge (for inmates)," Lt. William Mock, commander of the Fenner Canyon Conservation Camp, told the Orange County Register.
Lt. Mock said correctional officers supervise all inmate firefighters.  Nonetheless, mistakes and accidents do happen.
When the inmate program doesn't work as planned
In 2015, an inmate firefighter assigned to a fire crew in California was at large after walking off the job. The prisoner was serving a sentence for transportation of marijuana and had a history of theft, drugs and assault on police. In 2016, another inmate firefighter from the Ben Lomond Conservation Camp in California also walked off the job, prompting a multi-agency search for him. The prisoner was serving a sentence for first-degree robbery.
Aside from runaways, there have also been inmate firefighter injuries and deaths. Also in 2016, a 22-year-old California inmate firefighter died from injuries she sustained after being struck by a boulder while assisting in extinguishing a Malibu brush fire. In 2014, eight firefighters, including five inmates, were burned while battling a wildfire in Northern California.
On the opposite spectrum, there are many stories of how being part of an inmate crew saved a prisoner's life.
Working on the outside
Arizona Governor Doug Ducey recently approved $1.5 million in funding to create a professional ex-con fire crew. The program, according to Gov. Ducey, will protect taxpayers from long-term prison costs and will help improve public safety.
Inmates released from prison will be able to apply for a job with a full-time hotshot crew, according to Arizona Department of Corrections Director Charles Ryan.
Wildland firefighter T.J. O'Neill, who was sentenced to prison for drugs and drunk driving, was hired by the Sonoita-Elgin Fire District in Arizona after his release from prison.
O'Neill, who hopes to become an elite hotshot firefighter, credits the challenges and structure of firefighting for saving his life.
Last year, the FDNY hired nine convicted ex-felons; the department faced extreme criticism for graduating the probationary firefighters from the fire academy. In response, the FDNY confirmed that ex-felons with a certificate of good conduct from the state Corrections Department, which is granted to people who have stayed clean for three to five years, can be considered for full-time firefighting positions.
Fire Commissioner Daniel Nigro said the class reflected "the growing diversity" of the FDNY.
It's no secret that California will continue to fight years of droughts and deadly fire seasons. So the question remains: Do inmate firefighters present a public safety risk or resource?