Calif. city terminates private jail services contract due to 'mass resignation'
A Costa Mesa city manager has been authorized to negotiate an agreement with HBPD or to hire temporary jail staffing
---
By Sara Cardine
Daily Pilot
COSTA MESA, Calif. — Costa Mesa officials last week terminated a contract with the private firm that has provided jail services for the city since 2013, citing a "mass resignation" of employees that would have left only two properly trained jailers at the overburdened facility.
Members of the City Council in a May 17 meeting agreed to immediately halt the city's longstanding arrangement with G4S Secure Solutions and Allied Universal, the company that acquired it in 2021, ahead of a June 30 contract expiration date and to consider negotiating with Huntington Beach for temporary jail services.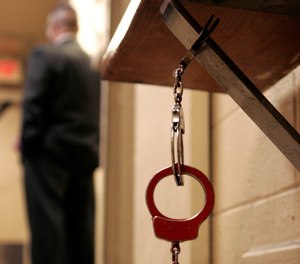 "When you outsource city services to a company that provides those on a contract basis, one of the consequences is an issue with performance that could lead to termination," Mayor John Stephens said during the discussion.
"That's a risk we took way back when, and that risk has come home to roost."
An erstwhile conservative-majority City Council had cost savings in mind on June 4, 2013, when members approved outsourcing jail services to G4S, a move they said would cut costs by 45% compared to paying city- employed custody officers for the same work.
The company offered to perform the same duties and promised a host of advantages — like on-site video monitoring and an additional $10 million in liability coverage — for an annual $743,329, compared to the $1,346,789 budgeted for custody officers unionized under the Costa Mesa City Employees Assn.
Although G4S initially reported an employee turnover rate of about 20%, the company's Brandon Joffe assured the city the contracted jailers were trained, subjected to extensive background checks and, in many cases, criminal justice graduates looking to enter the police force.
Some, however, were skeptical of privatizing Costa Mesa's jail. Representatives with CMCEA and its affiliate Orange County Employees Assn. sought a court injunction in 2011 to block the city from outsourcing any services that might result in employee layoffs.
The legal battle was resolved by a settlement, which council members approved in a June 4, 2013, closed session meeting, mere hours before the jail discussion.
Jennifer Muir, then-spokeswoman for CMSEA/OCEA, said at the time that union representatives were committed to working collaboratively with the city to achieve fiscal objectives while also preserving quality services and ensuring job security for city employees.
"Unfortunately, to date the City Council majority has decided on a course of action that appears to be deliberately calculated to sabotage those efforts," Muir said in a public comment. "We strongly believe this contract will expose the city to significant risk and could compromise public safety."
Other members of the public who spoke at the meeting questioned the soundness of ceasing a function that had long been considered a city service and wondered what would be lost with such steep reductions in costs.
"If you're dealing with a firm that [costs ] substantially less than what is currently being paid, you may get away with it in the current labor market, but in the future, it could cost you a great deal," warned Costa Mesa resident Sheila Pfafflin.
Then-Mayor Jim Righeimer supported the contract, explaining G4S-employed jailers earned between $16.50 and $25 per hour, compared to the $26.42 to $32 per hour earned by most CMCEA officers, who also received annual raises, sick days, vacation time and holidays.
"The problem with government and government employees, as good as they are, is they are pricing themselves out of the picture," Righeimer said.
Council members voted 4-1 to approve a three- year contract with the international firm that included the option for two one- year extensions, which the city later exercised.
When the original agreement and its extensions expired in 2018, and city staff issued a request for proposals to find a new pool of jailers, G4S was the lone bidder, according to a staff report. The annual cost of the contract has since increased to $924,098.
"While the services of Allied Universal's personnel have been good, these experienced personnel are resigning from Allied Universal, leaving the city no legal options but to close the city's jail temporarily," the report stated. "There are no private companies who provide this service."
Despite termination of the contract, CMPD's 32-bed jail — which can accommodate inmate stays up to 96 hours — is continuing to operate, Costa Mesa Police Department spokeswoman Roxi Fyad confirmed Thursday.
Costa Mesa officials declined to comment for this story.
Councilman Loren Gameros, after making a motion to terminate the contract at the May 17 meeting, pledged then his support of CMPD.
"I'm very happy to see that we can hopefully move forward in a positive manner and help the department in any way," he said before the vote.
OCEA General Manager Charles Barfield declined to speak on the matter, indicating CMCEA/OCEA representatives were currently engaged in regular collective bargaining talks with city officials. Allied Universal officials did not provide a comment on the termination as of press deadline Thursday.
Jennifer Carey, public affairs manager for Huntington Beach, confirmed Thursday Costa Mesa officials had reached out to Huntington Beach police regarding possible temporary use of the facility but said talks were still "very, very preliminary."
That Huntington Beach jail, she added, is one of the largest facilities of its kind in Orange County. It can house up to 72 inmates, with separate accommodations for men and women and another 12 beds for inmate workers.
Costa Mesa City Manager Lori Ann Farrell Harrison has been authorized to negotiate an agreement with HBPD or to hire temporary staffing for the city jail, according to the council 's direction.
___
(c)2022 the Daily Pilot (Costa Mesa, Calif.)
McClatchy-Tribune News Service