Raises for Tenn. COs have had little impact on staffing — so far
The 37% salary increase for new Tennessee Department of Correction officers raised annual starting pay to $44,500
---
By Sarah Sinning
NASHVILLE, Tenn. — Despite a "competitive" 37% pay raise for state correctional officers in December, Tennessee prisons are still struggling with understaffing, WJHL reports. 
According to the news outlet, the state's Northeast Correctional Complex in Mountain City had fewer security employees at the end of February than it did before the raises went into effect. While TDOC hired 48 new staff members to work at the facility between November 15, 2021 and February 25, 56 employees either quit or were fired in the same time period.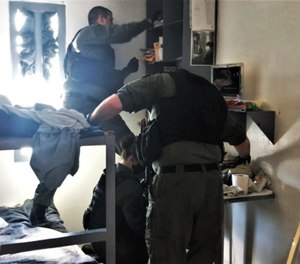 And this nearly 41% vacancy rate among security staff at the facility is having a detrimental impact on both inmates and officers. Not only was a CO stabbed last month, but reports of inmates using contraband cell phones to threaten the families of other inmates have garnered the attention of state lawmakers. 
At least four other facilities in the state have a higher vacancy rate for correctional officer positions, said Lee Dotson, TDOC's Assistant Commissioner for Prisons.
"We do have problems," he told the news outlet. "We acknowledge those issues."
But Dotson also says that the tide is beginning to turn due to the pay increase, which brought starting pay up to $44,500. 
"We're losing in a two-month period, through attrition or whatever, what we would see in a month's time prior to the raise," he said.
Just when the department's staffing will eventually stabilize, however, is anyone's guess, particularly as more and more officers become eligible for retirement.
"Even though we may be hiring a large number of folks across the state we still have people that are retiring," Dotson said. "They've provided great support to the state and to the citizens of the state and to the department throughout their public safety career, and some of them have decided it's time to go ahead and retire."