Mass. jail ends face-to-face visits, replaces them with video chat
Visitors will no longer set foot inside the actual jail, but be directed to a video-conferencing trailer near the facility's entrance
---
Associated Press
DARTMOUTH, Mass. — A Massachusetts jail is replacing face-to-face meetings between inmates and visitors with a video conferencing system.
Officials at the Bristol County jail in Dartmouth say they're making the change to prevent contraband being smuggled into the facility.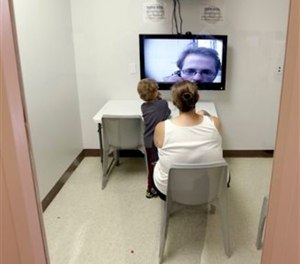 WPRI-TV reports that people visiting loved ones in jail are already separated by glass, but a jail spokesman says contraband is still slipping through.
Officials say a visitor recently managed to slip a strip of a narcotic behind some chipped paint in the visitation center, and an inmate on cleanup duty later retrieved it.
Visitors will no longer set foot inside the actual jail, but be directed to a video-conferencing trailer near the facility's entrance.
The American Civil Liberties Union of Massachusetts called the video system "cruel" to inmates and their loved ones.