Convicted S.C. killer released 16 years early must go back to prison, Supreme Court rules
The justices seemed concerned that Jeroid Price had been released secretly from prison and that no public hearing or victim notification had been held
---
By John Monk
The State
RIDGEVILLE, S.C. — A 3-2 majority of the South Carolina Supreme Court on Wednesday voided a secret judge's order that allowed a convicted killer to be released from prison 16 years early and ordered that Jeroid Price be arrested and returned to prison.
The decision was confirmed by Attorney General Alan Wilson, Richland County Sheriff Leon Lott and 1st Circuit Solicitor David Pascoe, who as an assistant Richland County solicitor in 2003 won a jury conviction of Price, now 38, of a Columbia area nightclub murder.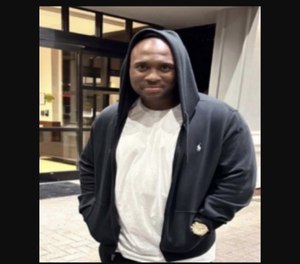 The court's one-paragraph decision was released only two hours after a 90-minute Wednesday hearing, where justices heard arguments for rearresting Price from Wilson and his deputy, Heather Weiss.
Price's attorney, Todd Rutherford, who also serves in the South Carolina House, had argued that Price should keep his freedom.
Such haste by the state's highest court is highly unusual and underscores earlier concerns by law enforcement, who had told reporters that Price represents a danger to the public and should be apprehended immediately.
Price's current whereabouts are unknown, and he could not be immediately located. As of press deadline Thursday, Price was not in custody. Since being quietly released from prison in mid-March, he has been under no requirements to check in with law enforcement.
In the Supreme Court's majority ruling were associate justices John Kittredge, John Cannon Few and new Associate Justice Garrison Hill. Dissenting were Chief Justice Donald Beatty and Associate Justice George "Buck" James.
All participated in a vigorous livestreamed discussion Wednesday, in which the existence of a highly secret judge's order freeing Price for which there was apparently no record — it had apparently never been formally clocked in by the Richland County clerk of court's office — was called a "mess" by more than one justice.
Wednesday's ruling directed law enforcement authorities "to immediately take custody of the defendant" and return him to the state Department of Corrections to serve the remainder of his sentence.
The Supreme Court's ruling also said "a formal opinion explaining the facts for its decision" will be filed but gave no date.
"We're pleased the Court heard our request with such urgency and agreed that Jeroid Price's release was unlawful and that he should be remanded back to the Department of Corrections immediately," Wilson said in a statement.
"Secret orders and backroom deals have no place in our justice system. I hope this sends a clear message to the people of South Carolina: our procedures matter and no one is above the law."
Rutherford, who had earlier told reporters he was confident the court would approve Price's release, said Thursday he was disappointed with the Supreme Court's ruling, saying it could have a chilling effect.
"I was even more disappointed with the attorney general's complete disregard for the safety of someone who had given information that there's no denying how valuable that information was," Rutherford said. "They believe that by helping the state you should be put in solitary confinement puts a chilling effect on any and all inmates that have given information in order to help save the lives of correctional officers and the citizens of this state. And the Attorney General's Office ought to be ashamed of that."
'A very serious situation'
At Wednesday's hearing, justices appeared frustrated over whether they had jurisdiction to overturn the order, which one justice called a "phantom order" and another, an "underground order."
All five justices seemed concerned that Price had been released secretly from prison and that no public hearing or victim notification — as required by state law — had been held.
"We all agree that this is a serious situation," said Beatty at the hearing's outset. "This is a very serious situation."
However, some justices questioned what authority they might have to overturn a judge's order in which the only three parties who knew about the order were 5th Circuit Solicitor Byron Gipson, now-retired Judge Casey Manning and Rutherford, Price's attorney.
The actions of Gipson and Manning have never been fully explained, but in recent days court filings and statements by Rutherford indicate that Rutherford in December approached Gipson, who has the authority to seek a motion, and the two of them persuaded the judge to sign the order on Dec. 30, 2022, one day before Manning retired after being on the bench 28 years.
Price, convicted of murder in 2003 of college football player Carl Smalls Jr.'s 2002 shooting death, was released from a New Mexico prison on March 15 despite only serving 19 years of a 35-year prison sentence. Smalls had played for University of South Carolina and had transferred to play on the University of North Carolina's football team.
Price's release was largely unknown to the public until last week, when Pascoe told media of his early release and revealed that it was a secret order signed by Manning that allowed him out.
The case has since sparked widespread controversy and outrage, particularly after the victim's family said they were only notified the day of Price's release on March 15 and were not given an opportunity to speak against his release in a courtroom.
Another issue in the case was that the sentence given to Price in 2003 by then-Judge Reggie Lloyd, after the jury came back with a guilty verdict for murder, was a 35-year mandatory sentence, meaning he had to serve all 35 years.
Gov. Henry McMaster wrote a letter Monday to the state Department of Corrections asking how many criminals have been released from prison on secret judges' orders.
State law requires that victims be given an opportunity to attend a public hearing about a prisoner's release.
Price's release has also raised questions about the cozy nonpublic relationships of lawyers to solicitors and judges and about lawyer-legislators who vet and elect judges that they sometimes practice in front of. South Carolina has a system whereby some lawmakers who are lawyers play a major role in selecting judges for their elite $200,000-a-year jobs.
On Wednesday, Associate Justice James asked Wilson if the role of lawyer-legislators had anything to do with the arguments he was making to the high court.
"He didn't exert any undue influence over Mr. Gipson, did he?" James asked Wilson, who said there was no evidence that had occurred. .
"The state failed. The state failed in this process, and I understand, I'm the chief prosecutor of this state," Wilson said. "But the 5th Circuit Solicitor's Office failed to meet the obligations, … and to provide a public open hearing."
But later, Pascoe — an outspoken critic of the current judicial election system — questioned why James would bring up the idea of lawyer-legislators.
In any case, it was obvious Rutherford had a close relationship with Manning, because Rutherford acknowledged at Wednesday's hearing that it was he — Rutherford — who suggested to Manning that the judge cut 16 years off Price's sentence, Pascoe said.
'Long-term implications'
Justices appeared highly concerned about the secrecy of the process, as well at the large number of years Price was able to get lopped off his sentence.
Ending a 35-year prison sentence after just 19 years is "an extraordinary reduction," said Associate Justice Hill, who indicated he had never heard of such a reduction despite a long career as a lawyer and a state judge.
Rutherford had urged the justices to uphold the release of Price, saying his life will be in danger since Price will now be known as an informant if returned to prison.
Price was released because he provided substantial assistance to law enforcement that saved lives, Rutherford told the justices.
The main action Price took was getting word to prison authorities that a dangerous inmate, Jimmy Lee Causey, had escaped in 2017 without their knowledge and had been on the lam three days, Rutherford said.
That information led to Causey's quick apprehension in Texas, where he was located with guns and nearly $50,000 in cash, he said. Rutherford also submitted statements by an inmate and a former security guard about how on two occasions Price had saved the lives of two different corrections officers who were threatened by other inmates.
The law allows inmates to have their sentences reduced if they help law enforcement, and allowing inmates to get years off their sentences is an incentive to criminals, Rutherford told the justices.
Longtime victims advocate Laura Hudson applauded the high court's decision and said the lack of a hearing and notification to the family violated a 1996 constitutional amendment that requires they be notified in advance of any hearing concerning the defendant.
"Crime victims have a right to be informed, and our courts are supposed to be open. The failure to do that is abhorrent," said Hudson, executive director of the S.C. Crime Victims' Council.
Justice James said the absence of notification was his main concern, he said.
"That just hits you square in the face," he told Wilson. "The fact remains it wasn't Mr. Rutherford's responsibility to do that. It was the state's (Solicitor Gipson's) responsibility to do that. ... Victim notification is paramount. But the fact remains that it wasn't done."
Although the dispute over Price's release was originally scheduled to go before a state court judge last week, Wilson petitioned the Supreme Court, which quickly agreed to make Manning's secret order public.
At that point, the state Supreme Court — acting with almost unprecedented speed — jumped in the case, released a briefing schedule and set oral arguments for Wednesday.
"Whatever we do today is going to have long-term implications," Beatty said.
In a news release early Thursday afternoon, the South Carolina Law Enforcement Division, SLED, urged anyone with information about Price's whereabouts to call (803) 737-9000 or submit tips at tips@sled.sc.gov, or to contact Midlands CrimeStoppers through the Tips Hotline at 888-CRIME-SC, through the Free Mobile App P3TIPS or go to www.crimesc.com.
—
©2023 The State.
Visit thestate.com.
Distributed by Tribune Content Agency, LLC.
McClatchy-Tribune News Service